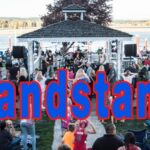 Lloyd "Have Mercy" Jones
Winter is OVER. Everything is new again!
Before I get started though, I must continue to think good thoughts and send all our love to Curtis Salgado! After all he has given us, we gladly cheer him on to a quick and strong recovery on his triple bypass surgery. With all those new belts & hoses, he'll be good for another 300,000 miles easy!
Returning from a fantastic (and productive) trip to Nashville, I'm excited and honored to be a guest at Cal Scott's "Songwriters Showcase" Monday, April 3, at O'Connor's in Multnomah Village, 7pm.
These …