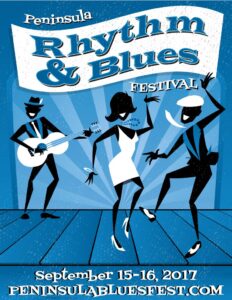 Coming this September, a new event will be rising like a phoenix from the ashes of the tremendously popular Blues & Seafood Festival in Ilwaco. Renamed and moving up the Long Beach Peninsula to Ocean Park, Washington, the first Peninsula Rhythm & Blues Festival will host some of the finest blues musicians from the Northwest. Happening on Friday, September 15 and Saturday, September 16 the event will be held at Wilson Field, home of the Beach Baron's Car Club, nestled between the Pacific Ocean and Willipa Bay.
Friday's performances will begin with The Tim Kelly Band (6:00 pm), followed by The Hudson Rocket Band (7:30 pm) and closing the night with North Coast Blues with the Cadillac Horns (9:00 pm). Admission for Friday night is $15.00.
On Saturday, things kick off at noon with The Robin Gibson Band, Bottleneck Blues Band (2:00 pm), Tracey Fordice Band (4:00 PM), Blind Wolf (6:00 pm), with Franco Paletta & The Stingers for the festival finale (8:00 pm). Admission for Saturday is $18.00.
The Humane Society of Pacific County will be serving up adult beverages to benefit their wonderful animal shelter, and there will be food vendors, from BBQ to seafood.
Tickets for the Peninsula Rhythm & Blues Festival may be purchased in advance at Brownpapertickets.com.