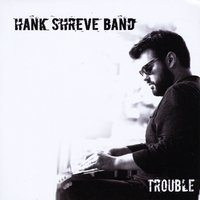 Trouble
Boogie Boss Records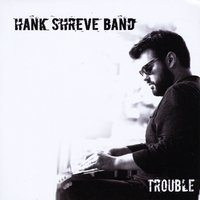 Hank Shreve is part of the Oregon generation of bluesmen that includes Ben Rice and Ty Curtis. Aside from their ages, they all have another thing in common. They are all out of this world talented and so scary good that they seem to get better every time that you see them. Having watched Hank Shreve for at least a decade and a half, his skills have been obvious. First as a harmonica player progressing into a sensational vocalist, drummer, keyboardist, lap steel player . . . I am under the impression that he can probably master anything he puts his hands and mind to.
"Trouble" is the Hank Shreve Band's latest disc and it's one of those if you don't have it already, jump into your car and head down to the nearest music store and pick it up! Aside from Hank playing just about every instrument you can think of and providing strong vocals and songwriting, he is joined by stellar musicians in his trio of Ken Luker on guitar and father Bill Shreve on bass.  Drummers JT Albright  and Tim Seifert fill in on drums on tracks not handled by Hank himself. Backing vocals courtesy of Laurie Shreve, Bill and Ken, both of whom also offer one lead number each that they each respectively composed, too. Got to say, the harmonies of this bunch are downright amazing as well.
I like the song mixture throughout the album. It moves from rockers, to funky, to a jazzy flare and even gospel, but it's all blues in every aspect. Covers of Jimmy Rogers "Who You Thinkin' Of" has a jumping pace with Hank blowing serious harp. In "Cry, Cry, Cry" he emulates his hero the late Paul deLay not only in voice, but those greasy harmonica parts that he can capture like no one other than deLay himself. The band really hits harmonically on their take of the Blind Boys of Alabama's version of the traditional "Run On." It's fun and filled with church in mood and presentation. Where else can you follow a gospel track with a song like "Big Leg Woman" with its descriptive lyrics other than in the blues. Great number sure to bring a smile to your face. The closing instrumental "Take My Hand" is so mellow and moving that it's like a deep breath following a rainstorm. Fresh and pure. The guitar and harmonica blend exquisitely.
Do I have to repeat myself? If you don't have a copy of Trouble, get moving! Exceptional, brilliant and a sure-fire hit. The Hank Shreve Band has captured a collection of tunes that match and surpass a lot of great albums from this year. Go get it! Now!
Total Time: 41:46
Trouble / Light Me Up / Who You Thinkin 'Or / Pain Called Love / Cry Cry Cry / Writer's Block Blues / Run On (For A Long Time) / Big Leg Woman / Fly Like A Tiger / Take My Hand
https://cascadebluesassociation.org/wp-content/uploads/2018/10/Hank-Shreve-Band-CD-cover.jpg
200
200
Wendy Schumer
https://cascadebluesassociation.org/wp-content/uploads/2020/10/CBA_Logo_top_main.png
Wendy Schumer
2018-10-25 16:37:29
2018-10-30 07:55:20
Hank Shreve Band