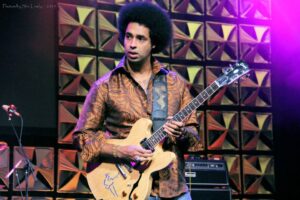 "Selwyn Birchwood is a master storyteller, both lyrically and musically. He's an impressive, hard-crunching, modern blues guitarist. His fretwork is high-energy, raw and vivid…knife-edged leads and roadhouse-rattling grooves. He is graced with a depth and maturity that would be impressive in a grizzled veteran, let alone a fresh-faced young man." -Living Blues
With his fiery guitar and lap steel playing, his trailblazing, instantly memorable songs and gritty, unvarnished vocals, Selwyn Birchwood is among the most extraordinary young stars in the blues. His deep familiarity with blues tradition allows him to bust the genre wide open, adding new sounds, colors and textures, all delivered with a revival tent preacher's fervor and a natural storyteller's charisma.
Winner of the 2013 International Blues Challenge, the recipient of the Blues Music Award and Living Blues Critics' Award for Best Debut Album Of 2014 for Don't Call No Ambulance, and the 2015 Blues Blast Rising Star Award, Birchwood is currently touring in support of his latest release Pick Your Poison and will be heading to Portland on Wednesday, November 15 for a 9:00 pm show at the Jack London Revue, 359 SW 4th Avenue. Tickets are $10.00 at Ticketweb.com. 21 & over only.