Wicked Cool
Double Y Records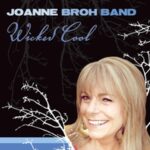 The Joanne Broh Band's latest album, Wicked Cool, has already reaped some mighty fine accolades. Recently receiving the Rainy Day Blues Society's 2016 Rooster Award for best blues album, the disc is filled with the bluesy arrangements and vocals you've come to expect from one of the most beloved artists from the Eugene area.
Joanne's voice fills many layers befitting the material. Most of the albums' compositions are original numbers created by Broh, bassist Jim Badalich, and guitarist Jerry Zybach. There are a couple tracks from Zybach that stretch back to 2002 ("Two Way Street") and 2003 ("Sad Ol' Heart"). The band is rounded out with drummer Dan E. Miller and keyboardist Gus Russell.
There are also some hefty guests lending a hand to the selections as well, with harmonica players Mitch Kashmar and Hank Shreve, trumpeters  Dana Heitman (The Cherry Poppin' Daddies) and Dave Bender (The Flying Instruments of Karma, Emerald City Jazz Kings), and  saxophonists Sean Flannery (formerly with The Cherry Poppin' Daddies) and Linda Kanter. Portland's Joe McCarthy's produced the horn arrangements for the track "(Swing 'Er) Like Josephine Baker."
Plenty of emotions spin through Wicked Cool. From the funky beats of "Bad Boy," the tender heartfelt vocals on "Sad Ol' Heart," the biting guitar interludes on "Getting' Old" and "Let's Work It Out," the loneliness within love lost in "Smokin' Again," to the closing "Reap What You Sow" with its R&B piano paced flavor. Overall, the album is a well-crafted sampling by a strong group of musicians with a truly remarkable lead vocalist that takes you on a musical journey that is not only cool, it's Wicked Cool!
Time: 38:37
Wicked Cool / Getting' Old Blues / (Shake "Er) Like Josephine Baker / Smokin' Again / Two way Street / Let's Work On It / Sad Ol' Heart / Bad Boy / Reap What You Sow