Muddy Award Voting
Muddy Awards Voting has not started yet.
Cascade Blues Association members have received instructions how to register on this website. This year we will be doing the Muddy Awards voting online. So if you are a member and want to vote you must register. The voting has not started yet. We will notify you when the voting starts. Right now the page is locked. We are trying to get as many registered as possible.
Thanx
Buko.
Feature - Thad Beckman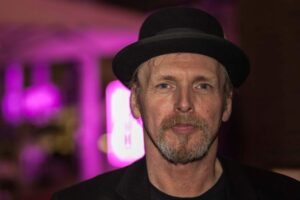 Picture a Portland, Oregon Christmas when a child was 11…"Under the tree, wrapped in white tissue paper and tied with a red ribbon was a long cardboard box containing a guitar bought from the local department store for $13.97. The strings were so far off the frets it took a pair of vice grips to make any discernible musical sounds. A year and 52 guitar lessons later I could play Aura Lee and Amazing Grace and had the grip of a journeyman mechanic. That same year I made my performing debut with my best friend at the school talent show. A disaster." Thus starts the musical career of Thad Beckman...
Fast forward a few decades and you have Thad Beckman, a singer/songwriter with a blues bent. "I play nearly all my gigs with an acoustic guitar. My favorite being my 1935 Gibson L-00."...
Thad Beckman – Jack O'Diamonds
Thad Beckman – Dust Bowl Madonna
August 28, 2016 – Vancouver Wine and Jazz Festival
N/A, Esther Short Park
August 28, 2016 – Ty Curtis
1:00 pm, Albany River Rhythms
August 28, 2016 – Early Bird JAM
4:00 pm, Area 52
August 28, 2016 – Kevin Selfe Blues Jam
6:00 pm, Blue Diamond
August 28, 2016 – Norman Sylvester Band
6:00 pm, Millennium Park Plaza
August 28, 2016 – Bolt Upright JAM
9:00 pm, Montavilla Station