Trumpeter Joe McCarthy's Long Journey to the
Center of Portland's Music Scene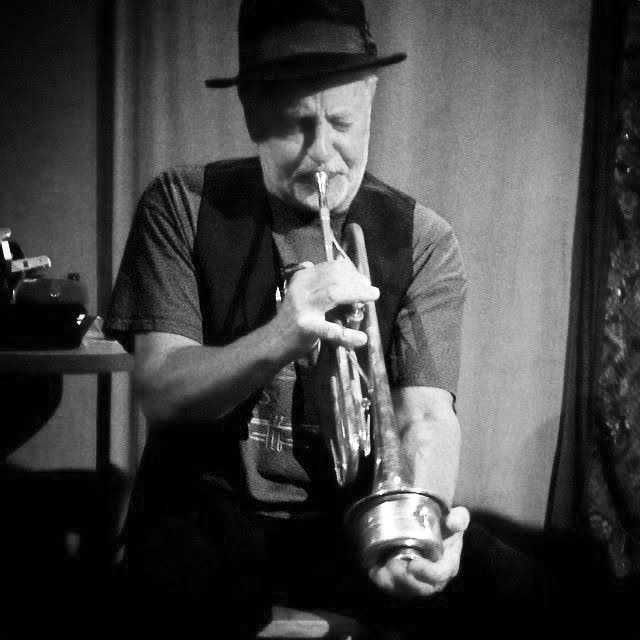 Born and raised in Coquille, OR, horn player Joe McCarthy moved to Portland in 1978 and brought his music to the masses. He recently answered some questions so our readers could learn more about him.
How long have you been performing professionally?
Since 1967 when I played a Farfisa through a Leslie and sang. That was with my first band, Fairfax. So, about 50 years...
Who has influenced your music?
There was one AM radio station in our little hometown. My exposure to popular music stemmed from listening to KWRO before sunset every evening, when its license required it to go off the air.
My grandmother was an excellent stride-piano player raised in San Francisco. She played organ at our church for 40 plus years. Grandma sparked my first interest in actually playing music, sitting me down and teaching me a few tunes.
When I was 15 a neighbor lady gave me Dave Brubeck's Take Five album which changed my life. Nothing like I had ever heard. She seemed to know I needed to listen to it.
Rock and roll captured my interest in high school, but my lifelong tastes always lead me to beautiful jazz and funky blues/soul. Chet Baker, Sly Stone, Donny Hathaway, Louis Armstrong, Art Tatum, etc. have been my influences...
What instruments do you play?
Trumpet is my primary instrument—the one I play 'out' most often. Piano, though, with its linear connection to melodies and chords is my go-to instrument of choice when I am chilling, or being creative. Voice is another matter—the way one can be so creative, turning lyrics into music. I love to sing. But there is demand for trumpet—it's what makes my phone ring. Everybody has a voice, and Portland is loaded with excellent piano players. Only a few of us care to put in the time required to have trumpet chops. It's going to the gym every day. Probably a good thing, but darn it...
Joe McCarthy with DK Stewart Sextet
Joe McCarthy with DK Stewart Sextet
R.I.P. Jimmy Mak.
We are saddened to bid farewell to a beloved member and promoter of the Portland music community.  Jimmy Makarounis, passed away early morning January 2nd after a prolonged battle with cancer. We will cherish the many memories shared at Jimmy Mak's over the years and hold his memory in our hearts. Our prayers go out to Jimmy's family during this time of loss. Thank you Jimmy and godspeed.
Today's Events
January 23, 2017 – Johnny Nicholas & Scrappy Jud Newcomb
7:00 pm, Lake Theater & Cafe
January 23, 2017 – Lloyd Jones
8:00 pm, Muddy Rudder
January 23, 2017 – Hot Tea Cold
8:30 pm, Blue Diamond