Portland Soul: Portraits in Jazz & Blues is an exhibit by local artist Diane Russell on display at Concourse E at the Portland International Airport February 9 – July 15.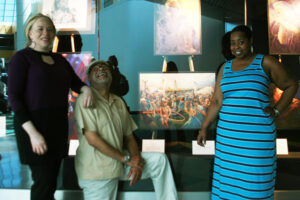 "This exhibit features many of my portraits of the Portland blues and jazz musicians whose music has inspired me to do the work that I do," explains Russell." I photographed bands for several years before I began painting and drawing them.  Most of these musicians are still with us, but sadly many have passed away in recent years, which is why it is so important to me to keep documenting their presence in the form of my oil and pencil portraits.  My first portrait was of Linda Hornbuckle, and I am so happy that her portrait is included in this display.  I think my work has showcased music to the community in a way that partners two art forms… music and art.  My intent is to keep building my body of work to include as many musicians as possible.  These musicians have all made such an enormous contribution to our region, and my hope is that these portraits will honor and celebrate their music for years to come."
Diane's work has appeared nationally on two Legendary Blues Cruise commemorative posters, the W.C. Handy Blues Awards poster, the House of Blues poster in New Orleans, and on the headstones of both Gatemouth Brown and Pinetop Perkins.  Her portraits are on display at Jimmy Mak's Jazz Club in NW Portland, and also at the After Hours Concerts at the Marriott Hotel during the Waterfront Blues Festival.