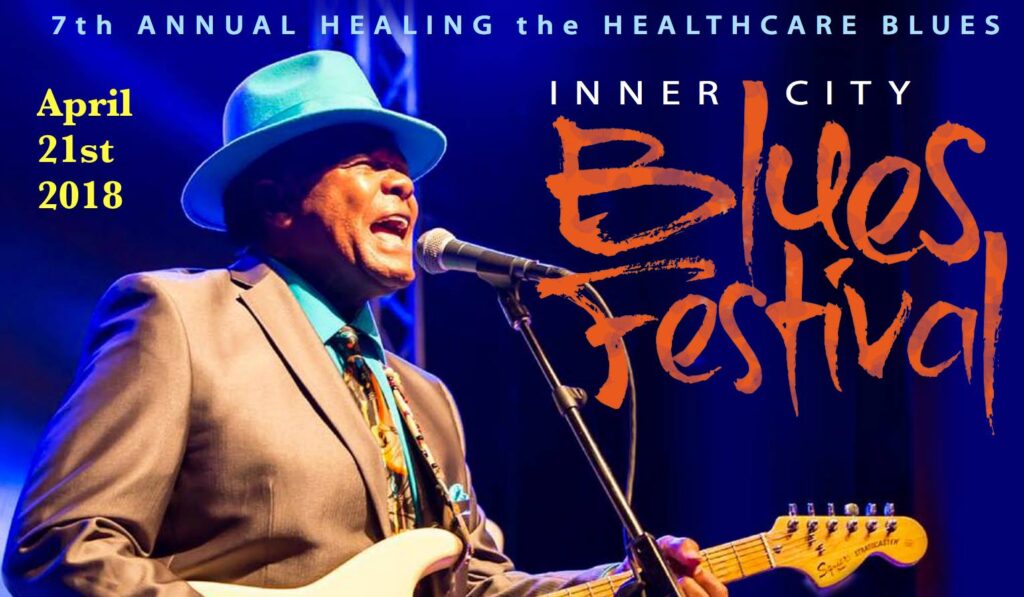 The 7th Annual Inner City Blues Festival, "Healing the Healthcare Blues," returns April 21 to the North Portland Eagles Lodge, 7611 N. Exeter & Lombard. Doors will open at 5:30 p.m. and music runs until midnight.  The event is a fundraiser for Health Care for All-Oregon, an advocacy organization working to bring an equitable, affordable, comprehensive, and publicly funded health care system to Oregon.
The uncertainties about access to health care in the current political climate mean that Health Care for All-Oregon's work is more important than ever. However, there are reasons to be encouraged. For example, Multnomah County Commissioners passed a resolution supporting universal access to health care on February 1, 2018, explaining that "[i]t is impossible for an individual to live a productive, healthy life without access to quality healthcare."  Multnomah County follows these cities in resolving to support health care for all: Portland, Ashland, Corvallis, Silverton, Eugene, Talent, and Milwaukie.
Throughout the evening, musical performances will feature: Bloco Alegria, I&I Band Reunion with Newell Briggs & Obi Addy, Ken DeRouchie Band with Arietta Ward, King Louie Quartet & LaRhonda Steele, Kings of the Blues Guitar Tribute with Peter Dammann, Michael Osborn & Kenny Blue Ray, Mic Crenshaw, Norman Sylvester revue with Sarah Billings & Lenanne Sylvester-Miller, Mad as Hell Doctors, Nurses, and Interns, Shoehorn, Steve Cheseborough, Tevis Hodge Jr & Bill Rhoades, and Terry Robb.
Help us get to universal health care by coming to the Blues Festival. As if six hours of music isn't enough, there will be a silent auction, two bars, dinner, and dessert for purchase, as well as tabling by community organizations.
Admission $20 in advance: online at Ticket Tomato  or at Music Millennium, 3158 E Burnside, Geneva's Shear Perfection, 5601 NE Martin Luther King Jr Blvd., Peninsula Station, 8316 N. Lombard, Musician's Union Hall, 325 NE 20th Ave.  Like last month, there will be a limited number of tickets available at the Cascade Blues Association General Membership Meeting at Catfish Lou's with a $1.00 discount to CBA members – but once they're gone, they're gone. Tickets are $25 at the door day of event.