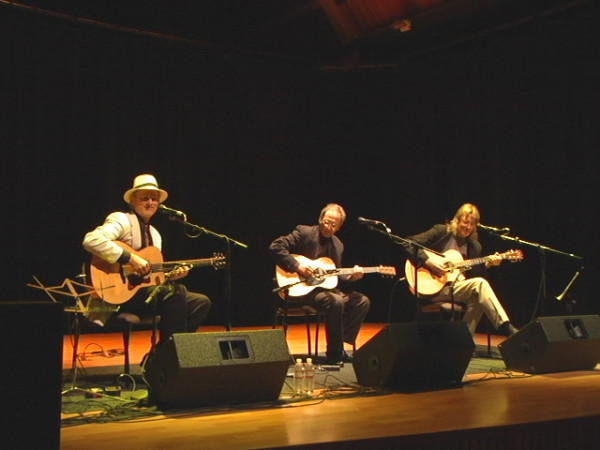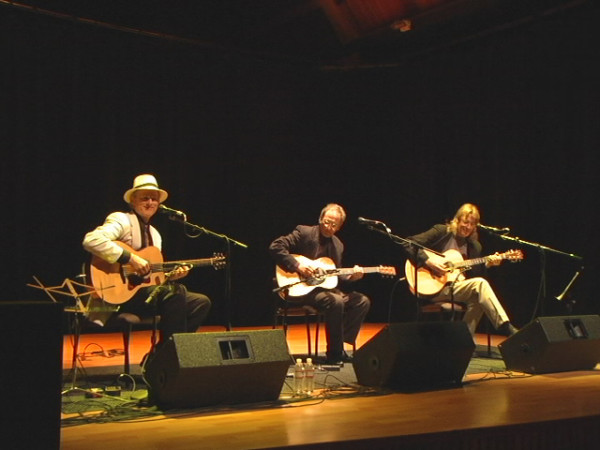 The Acoustic Guitar Summit is made up of three of the country's best fingerstyle guitarists, all of whom call Portland home. Two members, Doug Smith and Mark Hanson, won a Grammy in 2005 for their contributions to the Henry Mancini – Pink Guitar CD. The third member, Terry Robb, has been the perennial winner of the Cascade Blues Association's award as the top acoustic blues guitarist, and recently was inducted into the Oregon Music Hall of Fame. Their music  is heard on national television (Martha Stewart Living, American Idol), major films (Twister, Moll Flanders) and National Public Radio (Echoes and West Coast Live). In addtion, their music is regularly licensed for syndicated TV and radio broadcasts, as well as regional and national advertising campaigns.
Together the Acoustic Guitar Summit performs a wide range of music. A blistering original may lead into a tightly interwoven arrangement of a classic ballad. A gypsy jazz tune like Django Reinhardt's "Nuages" may lead into their stunning version of the folk classic "The Water Is Wide." Their original tunes range from intricately woven fingerpicking burners to slide-inflected blues and jazz ballads. There are always hot licks and great fun at an AGS concert!
The trio get together a couple times a year to perform in their hometown and it is always a showcase that is mesmerizing and is not to be missed. The Acoustic Guitar Summit will be returning for an engagement at The Lake Theater & Café, 106 N State Street in Lake Oswego on Monday, June 12 at 7:00 pm. Tickets are available at the venue's website Laketheatercafe.com  for $20.00 general admission, or $100.00 for a VIP table seating four and closest to the stage.