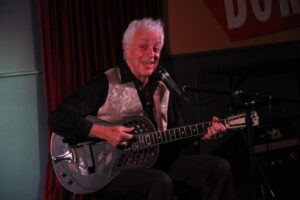 Doug MacLeod is known for his superb songwriting, guitar wizardry, warm soulful vocals, wit, and unforgettable live performances. No two shows are ever the same as he performs songs he selects on the spur of the moment, and his storytelling is second to none, bringing characters from the faceless to the legendary, to strikingly real life. A multiple Blues Music Awards winner, including 2018's Acoustic Artist of the Year and Acoustic Album of the Year for his latest release Break The Chain.
"Like all great blues men, MacLeod lives his music, and the songs are not just on the tips of his fingers and tongue, they are one with his being." – Blues Music Magazine
MacLeod's Northwest tour will be making two stops in Oregon. The first will take place Saturday, October 6 in Hood River at The Pines 1852 Tasting Room, 202 State Street. Tickets are $20.00 and can be purchased at The Pines or Waucoma Bookstore in Hood River. This is a limited seated show, only 50 tickets will be sold.
Then on Monday, October 8, MacLeod returns to The Lake Theater & Café, 106 N State Street in Lake Oswego for a 7:00 pm show. Tickets can be purchased at Laketheatercafe.com and are $15.00 general admission. VIP tables are also available for $100.00 seating four, closest to the stage.