Amici and Mueller Offer Advance Preview of New Album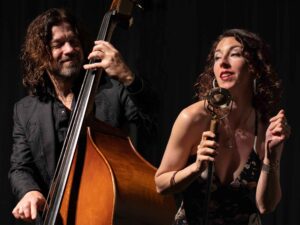 Julie Amici and Dean Mueller will deliver a live, sneak peak of new songs from their upcoming album during a special performance in July.  Showcasing music from their second studio album scheduled for release this fall, the album features eleven original songs, many of which they wrote to represent the Cascade Blues Association at the 2018 International Blues Challenge in Memphis. It offers an eclectic, cross-genre journey into the couple's past and present lives.  "We're so proud to finally give birth to these songs that represent the range and depth of our sound," said Mueller.  The collection takes its listener through a cohesive, yet diverse, display of stories that highlight Julie's uniquely pure vocals and Dean's keen sense of rhythm and blues. The band members, who also performed on the recording, are being kept secret until the night of the show where they reveal their new music.
Lake Theater & Café, 106 N State St, Lake Oswego. Monday, July 22. 7:00 pm. $20.00 tickets at laketheatercafe.com, $100.00 VIP tables available (seats four, closest to the stage). All ages.