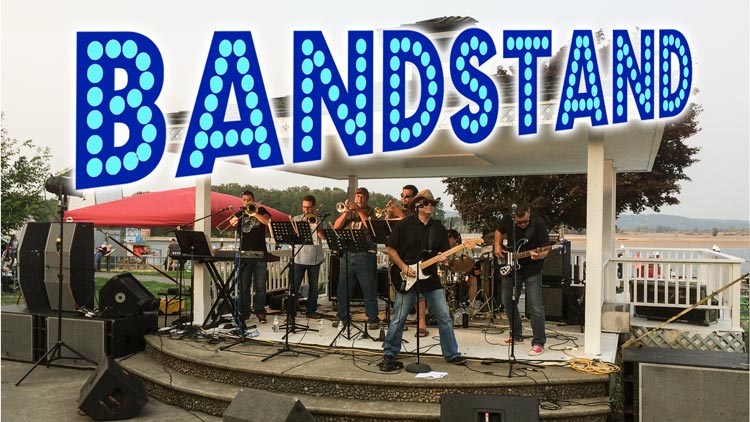 David Kahl and Friends – Too Much Not To Mention
As most of you know, David Kahl continues to have a lot on his plate, musically and personally. While he prepares for bypass surgery, scheduled for July 19th, his professional calendar is hitting critical mass.
The Bayou Boyz have found themselves on a roll, with Sundays at Spirits Pub and their "Family Style" show, featuring a rotation of guest artists, at Mekong Bistro on Mondays. In May, they kicked off the official start of Waterfront Blues Festival season, followed by a performance at the CBA general membership meeting, with a sneak peek at what they're serving up during festival week. A featured spot on the Front Porch Stage, July 5th, finally brings their unique approach to the Great American Songbook, with a Louisiana-based vibe, to a much wider audience. According to the WBF site, these guys should be a surprise discovery for festival-goers, just a taste of what they'll present during the "Midnight Rose: Hotel Rose After Dark" series at, you guessed it, Hotel Rose, 50 SW Morrison, from 10pm to 1:30 am, July 4-7.
The events at Hotel Rose aren't limited to after-hours. DME produced "Blues Brunch", showcasing United By Music North America, will be held July 4-6, from 11am-1pm. This is a great chance to see a great program at work. UBMNA has quickly become a premier program, using music as a tool that goes beyond therapy. It's something you must witness to appreciate. Another offering will be the "Happy Hour Acoustic Music Series", all festival days, from 4-6pm. Solo and small groups will be featured, allowing a break from the crowds and heat, without missing the music.
Soul Cookin' has settled into things, quite nicely, at Spirits Pub on Wednesdays. This place is as friendly as can be, a legitimate roadhouse with a great mix of people about as diverse as you'd want. The musical program has been such a hit that they're working on adding Friday nights to the lineup, featuring some of the finest acts around. Ty Curtis gave it a test run and, from all indications, this looks like a go-to place for high quality entertainment in an intimate setting.
Speaking of Ty Curtis, the more things change, the more they stay the same. David was asked to fill in while the band looked for a new bassist and, for the sixth time, he agreed. What's different now is the realization that this combination of players is too special to let go. In the past, David felt that age was too much of a concern and, with medical issues arising, things looked too serious to ignore. However, with diagnosis, the problem was identified, and the prognosis is very good. While he will be down for a few weeks, David will be making his way back, so you'll get a lot more chances to catch these guys, whether as a powerful trio or in a more expanded form. Ty is as prolific as ever, which means more new material, more stories to tell, and more excitement.
The Creative Community Cooperative continues its work to create equity for working-class creatives. While David's role remains important, a reorganization will allow him some relief and ability to focus his efforts where they're most effective. A remarkable team of experienced individuals has come together to prepare for a major event in the Fall, to raise funds for this program that will not only benefit artists, but the broader community, its neighborhoods, and schools. Stay tuned for updates. Even though he'll be laid up for a while, for David, things are just beginning to kick into gear.
=======================================================
A.C. PORTER
Hello Blues Fans! I'm hosting a double header! Tuesdays now at Mekong Bistro will be a blues jam from now on, but Jammers will be able to share a great stage and s big room as soon as the house band and guests are done! So July is looking great with folks like Doug Rowell, Jim Wallace, Whit Draper, Suburban Slim as Guests, and then who knows!  Please come out and support a killer venue with your friends and family! See the CBA calendar for who's playing when! 7:30 to 10:30 every Tuesday, No Cover!
=======================================================
James Clem
Hi friends, I just renewed my CBA membership and if you are one of those that has put off joining just keep in mind the great job the CBA does keeping blues alive. We all need to do our part.
I am recording a new CD that should be out later this summer and it is being recorded at Ron Rogers' studio onto analog tape. Ace upright bass man Craig Snazelle plays throughout and Mary Flower adds her great vocal and guitar skills on some tunes as well. The CD is mostly acoustic, but a few tracks have some electric slide and drums. Of course we will have a CD release party or two. Stay tuned.
One of my sidelines is teaching ukulele and I will be playing a 3 day ukulele festival down in Oakridge, Oregon, September 7-9. These festivals are a blast with workshops, jamming, concerts and more. The uke has really taken off worldwide and is just a lot of fun to play. There is a great camaraderie among the players at these festivals.
On October 1, I am heading over to play some dates in Europe starting in London and some other UK dates and then to Belgium, France and Holland. Mostly I am playing venues I have played in the past and we get some really good crowds and a lot of returning fans so it is all good.
Just a reminder that you can hear my music on Pandora, Spotify, iTunes and CD Baby. Hope to see some of you out on the town at my gigs.
Cheers, James Clem
https://cascadebluesassociation.org/wp-content/uploads/2017/08/bandstand2.jpg
422
750
Wendy Schumer
https://cascadebluesassociation.org/wp-content/uploads/2020/06/CBA_Logo-header2-300x66.png
Wendy Schumer
2018-06-26 13:24:52
2018-06-29 17:08:44
Band Stand – July 2018