Barks Brews & Blues!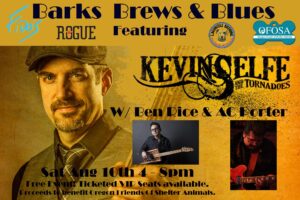 Spend a terrific evening of blues and brews with Kevin Selfe & The Tornadoes, Ben Rice and AC Porter at one of the area's most unique pubs, Fido's "World's First Dog Tap House." As the name suggests, Fido's is a dog tap house and houses a handful of puppies to play with for a small fee while you're visiting and listening to the blues. There is also a large selection of local brews, ciders, and wine. Additional sponsors for the event are Rogue Brewing and Lagunitas Brewing.
Fido's "World's First Dog Tap House," 7700 Southwest Dartmouth Street, Tigard. Saturday, August 10, 4:00 pm. Free. All ages. VIP Ticketed seats are available, with part of the proceeds to benefit Oregon Friends of Shelter Animals.