Things Have Changed
Verve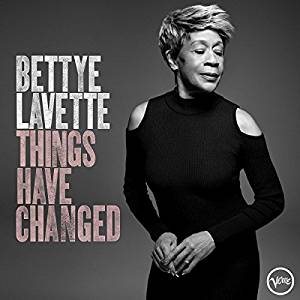 Bettye LaVette has one of the most distinctive voices in music today. Anything she sings is going to come out sounding as if it's dripping in pure soul. Now, you'd never think of the Bob Dylan's music, with its complex lyrics and patterns, to be something that a vocalist like LaVette would attempt, though his music has been covered by numerous other singers. But LaVette is open to any and all challenges and her interpretations of Dylan are unique and fresh.
The selections LaVette chose for this tribute recording, Things Have Changed, are not those most artists aim for. Usually people tend to go for the well-known hits from his catalog. But with the exception of "It Ain't Me Babe" and "The Times They Are A-Changin'" LaVette selects lesser known songs. But these two time-worn tunes are done in a manner that is unrecognizable while still holding onto the impact of the originals. And that is true with all of the pieces on this recording. Dylan has always been regarding as a voice of social issues and protest over time, and that presence is in full strength in LaVette's reworkings as well.
Produced by Steve Jordan, Bettye LaVette is backed by a more than capable grouping of musicians. Jordan helms the drums and is joined by bassist Pino Palladino, keyboardist Leon Pendarvis and former Dylan guitar player Larry Campbell. Rolling Stone guitarist Keith Richards and New Orleans' Trombone Shorty also provide cameos on the disc. But despite the talent of this band, LaVette is never anywhere but out in front of the music as she should be.
Dylan's music has never sounded more feisty or soulful than it does on Things Have Changed. Bettye LaVette proves that there's nothing holding this powerhouse vocalist back from doing exactly what she wants. And she does it big fashion once again. Things Have Changed is a first-rate, spectacular release.
Total Time: 58:57
Things Have Changed / It Ain't Me Babe / Political World / Don't Fall Apart On Me Tonight / Seeing The Real You At Last / Mama, You Been On My Mind / Ain't Talkin' / The Times They Are A-Changin' / What was It You Wanted / Emotionally Yours / Do Right To Me Baby (Do Unto Others) / Going, Going, Gone