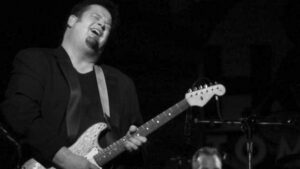 Portland's guitar legend Big Monti Amundson moved to Nashville a few months back and it's always a pleasure to see him return to town for performances, no matter how rare they may be. He will be hooking up with his former bandmates Allen Hunter on bass and Cory Burden on drums for a trio of shows in April, so don't miss out on some of the most fiery blues-rock going.
On Thursday, April 19, Big Monti will be playing at Billy Blues Bar & Grill, 7115 NE Hazel Dell Ave. in Vancouver, WA. Show time is 8:00 pm and there is no cover.
Then on Friday, April 20 and Saturday, April 21, Big Monti appears at The Trails End Saloon, 1320 Main St. in Oregon City. Both shows will begin at 8:30 pm. Contact the venue for admission information and reservations.