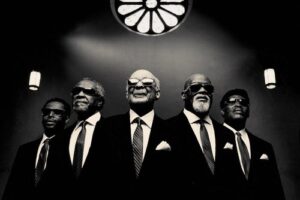 The Blind Boys of Alabama first formed in 1939 and have been touring professionally for more than seven decades, reaping five Grammy Awards during their tenure. Founding member Jimmy Carter is still performing with the legendary gospel outfit. They have played alongside such renowned musicians as Prince, Ben Harper, Taj Mahal, Lou Reed, and many more. The current line-up of The Blind Boys of Alabama include Ben Moore, Eric "Ricky" McKinnie, Paul Beasley, and Joey Williams.
The group will be heading out west for a tour in January, with one stop only scheduled for Oregon, at The Tower Theatre in Bend on Sunday, January 21. Headlining the bill will be folk rock singer-songwriter Marc Cohn, celebrating the 25th anniversary of his best known hit single "Walking In Memphis."
The Tower Theatre is located at 835 NW Wall Street. Showtime begins at 6:30 pm. Tickets range from $45.00 to $75.00 and can be purchased online at tickets.towertheatre.org.