Brother Yusef – The King Of Organic, Deep-Fried, Fattback Blues​, Visits Catfish Lou's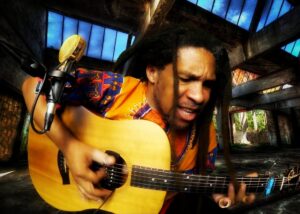 Brother Yusef has been described as a master solo guitarist, as well as a uniquely passionate vocalist. His performances are as raw, honest, and as real as the genre can be. Honed over thirty years, he calls his multifaceted style, "fattback blues" for its rich mix of Delta , Chicago, and Texas blues alongside a hard driving Louisiana stomp. Fattback Blues combines "traditional" fingerpicking and slide guitar playing with the contemporary feel of urban blues, rock, and funk.  He uses his right hand thumb to beat out a percussive bass-line and shuffle, while the index finger plays rhythm and lead lines, creating a full band sound with a solo guitar.
Catfish Lou's, 2460 NW 24th Ave. Friday, May 24, 7:00 pm. $7.00 at the door.