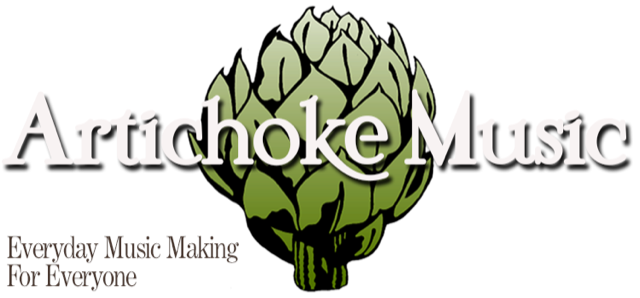 Learning Opportunities Through Artichoke Music
Not only has Artichoke Music teamed up with the Cascade Blues Association to help bring live entertainment once a month to our members, they also offer a wide and diverse selection of educational classes in various genres and instrumentation. Renowned instructors such as blues musicians Anne Weiss and Steve Cheseborough are among those with streaming classes as well as folk legend Tom May and guitarist Adrian Martin. Check out their website Artichokemusic.org for a complete listing of all current classes available.
Here are what is currently being offered by Anne and Steve:
Anne Weiss:
Sing More Better and Feel More Better!
This is a class for people who love to sing and would like to get better at it! — Anne Weiss, creator of "The Everyone Welcome Community Choir" and "Singing for the Vocally Challenged," is premiering a new Zoom format that incorporates the essence of those participatory, learning experiences with her new class, "Sing More Better." Taught in the oral tradition, we'll use sing-along and call and response formats with easy, fun songs from around the world to help you learn breath control, pitch, harmony, new repertoire and lift our spirits while we are lifting our voices!
Getting Ready for the Blues
ALL LEVELS! All Instruments–In this class we'll take on a new song every week, listen carefully together and figure out what to work on and how to work on it to become a better blues player! You'll be sent a nice, slow, clean recording of each song (by yours truly) plus chords and lyrics to work out your part, whether that is rhythm or bass guitar, keyboards, guitar/bass/horn/harmonica/etc solo, vocals or vocal harmony, and then you'll have the opportunity to share what you have come up with the group (ie, short "zoom" performance) if you choose,  and get support on how to be an ever-better-blues-player. This class will help you to emerge blues-player prepared for the post-Covid days to come!
Steve Cheseborough:
Blues Harp from the Heart
Blues harp from the heart — Playing the harmonica really does strengthen your abs and improve your breathing. Probably the only instrument you play by inhaling, it is magical and mystical. Also, it's one of the most affordable, portable and intimate of instruments, a friend to carry wherever you go. And it is a key element of America's fabulous musical tradition, the blues. But it ain't easy! All levels welcome, including beginners, as long as you are willing (and happy) to practice daily. 6 – 6:50 pm Mondays, 6 weeks, $100. chezztone@gmail.com Steve Cheseborough, instructor.
Blues in Spanish Tuning
Blues in Spanish tuning — We'll sing in English but play in Spanish tuning (a favorite of Muddy Waters, RL Burnside, Bonnie Raitt, Keith Richards and many others). For guitarists of any level who love the blues and like to practice every day! 7-7:50 pm Mondays, 6 weeks, $100. chezztone@gmail.com Steve Cheseborough, instructor. By Zoom for now!
https://cascadebluesassociation.org/wp-content/uploads/2020/10/201022071059591_1.png
298
640
Greg Johnson
https://cascadebluesassociation.org/wp-content/uploads/2020/10/CBA_Logo_top_main.png
Greg Johnson
2020-10-24 11:53:34
2020-11-05 10:00:57
Learning Opportunities Through Artichoke Music