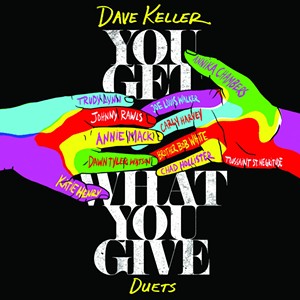 Dave Keller
You Get What You Give
Tastee Tone Records
Review by Greg Johnson 
Like so many of us, witnessing the murder of George Floyd by the police on a Minnesota street last March brought about fury and disbelief in our public services and government by their actions, and non-actions, following the event. It was one of way too many such occurrences that have taken place over time.  
Vermont-based Dave Keller, arguably one of the finest soul and R&B vocalists of our time, was among those who were outraged. Though a white artist, Keller recognizes that the origins of his career and the music he performs is wholly based in the black community. He wanted to respond in a manner that could not only pay tribute to that fact, but could also help movements such as Black Lives Matter. And being an artist, he saw that route with his music. So he recorded an album featuring duets with many of his favorite friends, with all proceeds resulting from its sales going to groups working for racial justice and equality. 
The idea was widely accepted and he had many people wishing to help with the project. But being 2020 and living in times of public shut-downs, having many of those friends being able to record directly in a studio with him was next to impossible. But he gathered his working band and some of his regional buddies were able to show up to lay down tracks. Others, living farther cross country, were sent recordings of Keller and the band which they in turn offered their parts to the mix, which was all pieced together back in Vermont. It all comes across seamlessly, sounding as if they were all in the same room with one another. 
Participating friends include blues legends like Joe Louis Walker and Johnny Rawls, highly regarded vocalists like Trudy Lynn, Annika Chambers, Dawn Tyler Watson and Minnesota's Annie Mack. Lesser known artists across the country include New England religious performer Brother Bob White and spoken word artist Toussaint St Negritude. 
Everything comes together through Keller's stellar songwriting and his voice leading the charge. This is an amazing recording, and despite the reason behind its making, it stands proudly beside his earlier, highly acclaimed releases. Thank you, Dave Keller, for such an enlightened project and for music we want to hear again and again. 
Total Time: 56:17 
One More Tear / That Thing We Do / You Get What You Give / The Evil That Men Do / Scratchin' At Your Door / Your Kind of Fool / God Is Love, Love Is Everything / The Spark / Make It to Tomorrow / Land of the Lonely / Precious Lord Take My Hand / The Kiss I Want / I'm Gonna Let It Shine 
https://cascadebluesassociation.org/wp-content/uploads/2021/01/Dave-Keller-CD-cover.jpg
300
300
Shelley Garrett
https://cascadebluesassociation.org/wp-content/uploads/2020/10/CBA_Logo_top_main.png
Shelley Garrett
2021-01-04 17:44:23
2021-01-04 17:44:23
Dave Keller – You Get What You Give