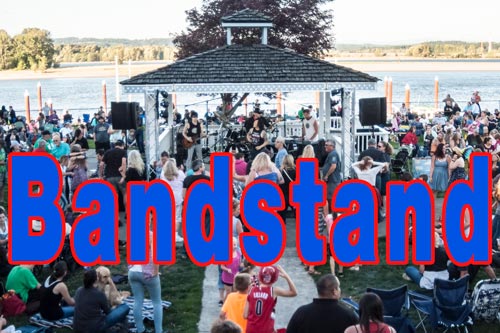 The Tornadoes (AKA – 'A Selfless Act')
Hello Blues lovers! Just a note to say thank you to our loyal fans and blues jammers!
Allen Markel and I (Don Shultz) have been holding down the fort along with our special guest musicians while our fearless leader Kevin Selfe is away. We appreciate your continued support and patronage of this fine venue, The Blue Diamond. I am excited about July's special guest line-up as we will have Kevin Selfe back on 7/2, then Ken Brewer on 7/9, AC Porter,on 7/16, Ben Rice on 7/23, and Doug Rowell on 7/30. We are looking forward to seeing you there on Sundays from 6 to 9 PM!
Lisa Mann
Hey blues peeps!  Lisa Mann here, letting you know what's up for July.  I'm looking forward to playing in a bunch of showcases this Waterfront Blues Fest, including the Sail on Sister Cruise, with Sonny Hess and the incredible Claudette King.  She's BB King's youngest daughter, and she is keeping his musical talent alive and well into the future.  Be sure and get tickets to at least one of the Delta Music Experience cruises, you'll appreciate the camaraderie AND the air conditioning.  Money raised on the Blues Cruises will go to the Oregon Food Bank, just the rest of the fest.
Of course there's musical magic every year, however the Waterfront Blues Fest is also host to some important causes and services.  Visit the Health Net Pavilion for FREE health screenings blood pressure, visual sight, glaucoma, diabetes and hearing.  Caring Ambassadors does Hepatitis testing as part of these screenings, so if you've ever wondered if you might have contracted it in the past, get checked!  I have heard personal testimony from folks who have gotten treatment after getting screened at Waterfront.  So take a few minutes out of your fun day to gain some peace of mind.  Also, there will be 12 Step meetings every morning at 11am at the Health Pavilion too.  You can find the Pavilion on the map they hand out at the gate.
My band won't be appearing at the fest, however we have gigs in Portland, Boise, Salem and more, and will be performing an important fundraiser on Sat July 29th.  Catfish Lou's is hosting us for their "Play it Forward" campaign, we will be raising funds for Mercy Corps NW's Reentry Transition Center.  This program helps people transitioning out of the prison system find jobs, housing, drug/alcohol treatment and so much more.  Help give folks a second chance at a new life by joining us!
Happy summer, everybody!
Lisa Mann
Ashbolt
I hope everyone has a blast at this year's Blues Fest! I'll be working at the massage booth Fri. June 30th 3PM-6:30PM and Monday July 3rd 11AM-3:30PM. Half of your donations go to the Oregon Food Bank!
Also, thanks to all the folks that showed up for the 6th Anniversary of the Bolt Upright Jam at Montavilla Station this past month! Thanks go out to my co-hosts over the years and to all the fantastic jammers/dancers/and blues supporters that continue to show up and partake in our tribal stomp! Montavilla Station, 417 SE 80th, 9PM-1:30AM is the place. I hope we have another 6 years into the future there! Enjoy the summer!
Bottleneck Blues Band
July will be busy month for Bottleneck Blues Band. They are spending the entire month playing shows out of Portland. They start July with a three day run first stopping in Maupin at The Riverside playing in the desert, then journeying on to John's Alley in Moscow, ID, then reaching their final destination The Wallace, ID Blues Festival where they are a featured act. The band will return to Hood River and perform at one of their favorite venues The River City Saloon which is always a great fun filled evening. Bottleneck is happy to be adding The Cowlitz County Fair to their show list this July 28th. The band has been working hard on the material for their upcoming album Storm Bringer. Currently, some of the new tunes have made it into their live set and have been well received from audiences. Please visit us on line at www.bottleneckbluesband.com or come to a show and see Randy Monroe, Franklin Spicer, Nathan Powell and Noah Bell live. Thanks CBA!
Catfish Lou's
Catfish Lou's is celebrating it's 6-month anniversary in July!  Time goes by quickly when an amazing journey is combined with a ton of fun!
We have met so many great people that I couldn't begin to name half of them here, but we'd like to send a special thank you to a few people that have been at Catfish Lou's since the beginning and set a musical foundation from which we have grown.
Robbie Laws & Jolie Clausen play their hearts out every Wednesday and Thursday for our jam sessions.  If you think that jam sessions are only for the artists, then you I recommend you check out the shows that they've each put together, and I promise you'll think differently.  You'll become a jam-fan like us!  Robbie has a heart of gold, he's a "hoot", and this cat can play! In fact, we have a video of him in the kitchen using a whisk as a guitar slide! (Did I mention we like to have fun?!) His weekly sets include everyone from Sheila Wilcoxson, Karen Lovely, and more. Jolie Clausen introduced many musicians to our venue when she, Whit Draper and Newell C. Briggs, began Jolie's Wednesday Jam. When she picks up those sticks, all the musicians come out of the woodwork to play.  A big thank you to the both of you for bringing us quality music week-after-week and believing in the vision we have for Catfish Lou's.
Likewise, Terry Robb & Ben Rice have brought a collage of collaborations to the stage every Monday since the beginning.  They sometimes play solo, but often bring a variety of duos and trio to kick the week off with intense, rootsy, bluesy, soulful, jazzy, sounds you won't hear anywhere else on a Monday night!
Lloyd "Have Mercy" Jones, Norman "Boogie Cat" Sylvester, Andy Stokes, LaRhonda Steele – These are all names you'll recognize from their decades of creating amazing music Portland metro area.  To borrow a word from Lloyd Jones, it's SUPER groovy that they are now bringing their awesomeness to Catfish Lou's.
Recently, Lloyd Jones came to us with the idea of doing a fundraiser for Curtis Salgado.  He'd donate his time and his tip jar (the "love bucket") and ticket sales.  All we had to do was provide a place for people to gather, great tasting food, and a rocking sound system. No problem on our part. Brilliant, generous and thoughtful on Lloyd's part. We donated a percentage of sales to the cause and were so impressed by the outpouring of support we thought, "we can do more". As a result, "Catfish Lou's Playing It Forward" monthly fundraiser events were launched.  Keep an eye on our website and Facebook page for your favorite artists and their charities of choice.
Looking forward to the next six months!
Michelle & Michael
Owners of Catfish Lou's
Billy D & The Hoodoos
Hey Everyone.. it's Billy D & The Hoodoos coming out of Winter Hibernation.. Lo & Behold we've got a busy Summer.. The Gorge Fest and Opening Day of The Safeway Waterfront Fest right here in Beautiful NW Oregon in June .. followed by a Trip to Cosmic Santa Fe in July, Walla Walla & Chicago in August &  finally California in Oct.. Pretty Awesome.. also after many years of being our go to guy for Bass & Vocal duties "Dapper" Joe Casimir.. the best I've ever worked with is retiring from "full time " duty with us but will come back once in awhile to help out .. he and his  better 1/2  June Howell also a great singer(Actually two of the kindest and best peeps you can ever hope to meet) will be riding off into as many Sunsets as They Can & enjoying their retirements together.. Thank U Joey!!! His last official show with us will be Saturday Aug 19 @ O'Connors Vault.. so please come out and hang with Joe that night .. truly one of the finest anywhere!!!
Keep Rockin!!!
Billy D
Karen Lovely
I'm sitting here in a van heading north to Canada with 2x BMA Winner "Best Bass" Lisa Mann, her husband bassist Allen Markel, drummer Dave Melyan, and IBC "St Blues" Winner for Best Guitar is driving.
Lisa, Ben, Dave, and I have been talking about what a great time we had at our recent sold out shows in Basel, Switzerland, and how excited we are to be performing together again this weekend.  We are all really stoked to be playing again on the main stage at the Waterfront Blues Festival, Opening Day, 6/30.
Playing with Lisa, Ben, Dave, and guitar player Mark Bowden is a musical experience like no other…
For the past year, we've been fortunate to have done a number of shows together…in Arizona, California, Florida, Washington, Switzerland, and best of all, our hometown of Portland, OR.
The collective joy, creative energy, and connectedness of the band, shows. The Cascade Blues Association membership honored us with a "Performance of the Year" award for last year's Waterfront Festival set.
It was a killer set…and with Special Guest Jim Pugh sitting in on B3 for the last half of the set, it was simply over the top good.
I can't wait to play with this band again at the 2017 Waterfront Festival.  Joining us this year, will be Joe McCarthy on trumpet, Robert "Lefty" Head on fiddle, and the Lowrider Band's percussionist Chuk Barber.
What's especially exciting for me, and songwriting partner, Mark Bowden, is that we'll be playing some of original material we wrote for my new album Fish Outta Water– which just debuted at #13 on the Billboard Blues Album chart.
See you, June 30th!
You can also catch my band 7/10 at Holliday Park for a free concert, courtesy the City of Portland, and at Catfish Lou's, the city's hip new blues club, on July 14th.
Dave Fleschner
Hello Blues Fans,
I've played the Blues Festival as a sideman for years with a number of different bands.  I think I first played a noon show with Gary Burford in the late 90's, then went on to work with Chris Mayther, Kathy Walker, Karen Lovely, Curtis Salgado and Duffy Bishop. I proudly display my Muddy Award in my studio for the year that the Curtis Salgado Band won the Muddy for Best Performance.  I got to back up Phillip Walker, Andrew 'Junior Boy Jones' And Sherman Robertson for a Freddie King Tribute (Jimmy Bott and Willie Barber were killing as the rhythm section – Renato Caranto was amazing on Tenor sax). I have to thank the Waterfront Blues Fest for giving me so many great and memorable opportunities to play music over the years.
This year I'm extremely honored to be leading a tribute to Paul Delay.  I played with Paul just a handful of times, but his influence on me and the Portland music world is immeasurable.  His creativity within the genre has been an inspiration for me, and countless other musicians – not only from Portland, but around the world.  We're going to have a who's who of killer musicians paying tribute to Paul's legacy: Andy Stokes, LaRhonda Steele, Saeeda Wright, Lisa Mann, Hank Shreve, Carlton Jackson, Ben Rice, Freddy Trujillo and myself.  Special guest Duffy Bishop will be revisiting a duet that she did with Paul – just a few years ago.  I can't thank the WBF and Peter Dammann enough for all the work they do to put this amazing festival on – and for inviting me to be a part of it.
I'm excited to be playing a variety of other shows at the blues fest this year as well.  First off, I'll be playing the DME Blues Brunches with United By Music North America every morning at the Hotel Rose from 11:00 to 1:00.  We have a brand new set of music, made up largely of the music of our guest mentors (from Marcia ball to Keb Mo'), that will showcase styles from the gutter to the swamp, somehow also maintaining a really positive vibe.  Expect some seriously heavy hitters to be showing up as guests at these Delta Music Experience "blues brunches."
On the 3rd, look out for a special guest appearance from me on a secret stage to be named later.  I played with this band somewhere in Washington a few years ago, and I think they are building a super secret tunnel to the stage from somewhere under a volcano.
On the 4th of July, United by Music will take the stage at Noon, then I'll do the Paul Delay Tribute at 2:00.  There will be an interview Q&A Session about Paul at 5:00 on the Crossroads stage, and then I finish out the evening with the Duffy Bishop Band.  This band has been playing around the Northwest this month, and I think we're playing really genuine music.  Duffy sings from her heart, and that inspires all of us to play with the same zeal for life.
I'm grateful to be able to keep company with all these amazing artists, and what better way to celebrate the 4th of July than with a big helping of American music.
Thank you all for supporting me and all the great artists in this town.  This American music is what makes America great.
Dave Fleschner
https://cascadebluesassociation.org/wp-content/uploads/2016/08/bandstand.jpg
333
500
Wendy Schumer
https://cascadebluesassociation.org/wp-content/uploads/2020/10/CBA_Logo_top_main.png
Wendy Schumer
2017-06-23 16:24:11
2017-06-27 07:46:01
Band Stand July 2017