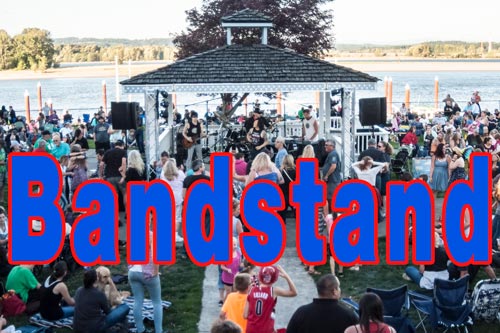 Harvey Brindell & The Tablerockers
A Band Taking Shape
It's about a shared vision. And that obviously goes well beyond the genre of music you want to play. For a band to become a cohesive unit there's all sorts of other issues to consider. How often do you want to play? How many days of the week are you available to play? How far are you willing to travel to play? How important is the amount of money you make playing? Will one person make the decisions for the band or will it be a democracy? Are you willing to put this band's schedule ahead of other gigs you may be offered? And finding the right people to answer those and other questions in a way that fits your own vision is a difficult task at best.
I arrived in Portland about a year and a half ago with the intent of putting a band together, booking gigs, and playing. I had been playing in Lincoln, NE, with essentially the same players for the past twenty five years and knew that part of our success was our like-mindedness about what we wanted to do and our ability to get along with and support each other in pursuit of doing that. I figured if I could find players in Portland with similar interests I could recreate what I had in Lincoln. It became clear quickly that wasn't going to happen. I realized that if I wanted to play, out of necessity, Harvey Brindell and The Tablerockers would need to be an ever-changing line-up of available players. I really didn't see a permanent line-up happening any time soon.
Enter Ray Beltran on harmonica and Ashbolt Stewart on drums. Ray and Ashbolt were a couple of the guys that I had been hiring to play gigs with me. Somewhere along the line we became friends and it became clear after much discussion that we are like-minded about what we want to do, that we share a vision.
Now those of you that have been following my ramblings might recall that a couple of months ago I wrote a piece about a bass playing friend and longtime bandmate from Lincoln NE, Dave "Shakey" Wagner coming to Portland and doing some gigs with me. Well that happened in October and Dave's experience in Portland was so positive that he has decided to move here. Dave plans to get here in February. So suddenly, and much to my amazement, Harvey Brindell & The Tablerockers has taken shape. Harvey Brindell-guitar/vocals, Ray Beltran-Harmonica/vocals, Dave "Shakey" Wagner-Bass/vocals, and Ashbolt Stewart-drums/vocals. You can read the bios on each of these players on the BIO page of our website at: www.thetablerockers.com.
We're Harvey Brindell & The Tablerockers. We play Chicago Blues. Come out and give us a listen.
——————————————————
Lloyd Jones
After surviving the wild and "chilly" holidays, We're going south "where the weather suits our clothes"… Jamaica!! That's right baby, as a guest on Delbert McClinton's "Sandy Beach's Cruise" we plan to find plenty of trouble to get in. Already planning to butt-in with Teresa James, Anson Funderberg, Jimmy Hall, Marcia Ball, and untold new friends. As Delbert say's himself… "we're just here to have a good time and play some good music." Excellent idea!
Lloyd Jones
"Groove Merchant"
www.lloydjonesmusic.com
https://cascadebluesassociation.org/wp-content/uploads/2016/08/bandstand.jpg
333
500
Wendy Schumer
https://cascadebluesassociation.org/wp-content/uploads/2020/10/CBA_Logo_top_main.png
Wendy Schumer
2016-12-27 11:38:45
2016-12-27 14:46:11
Band Stand Jan 2017