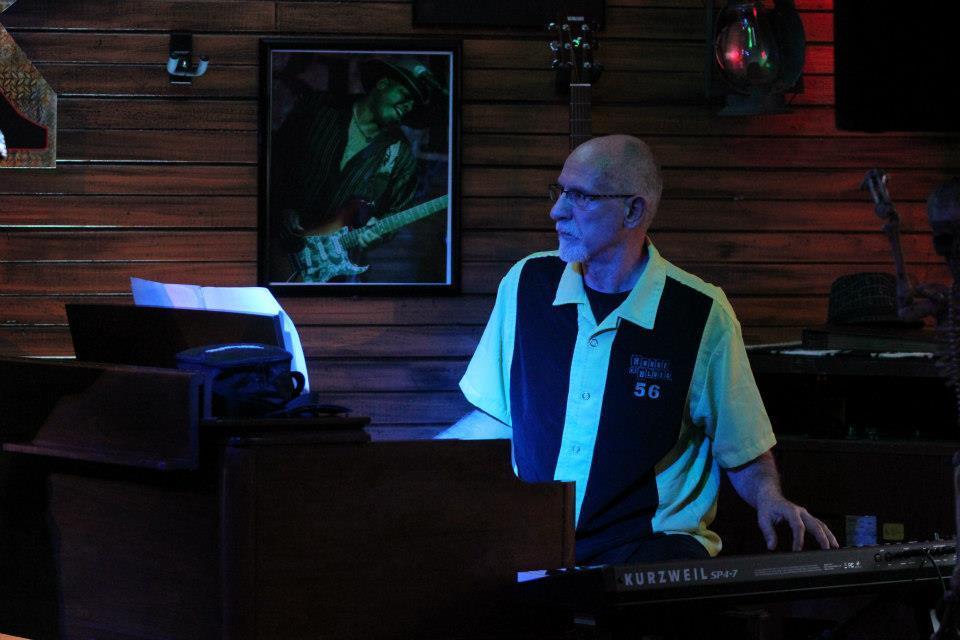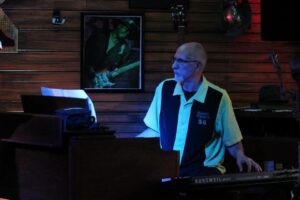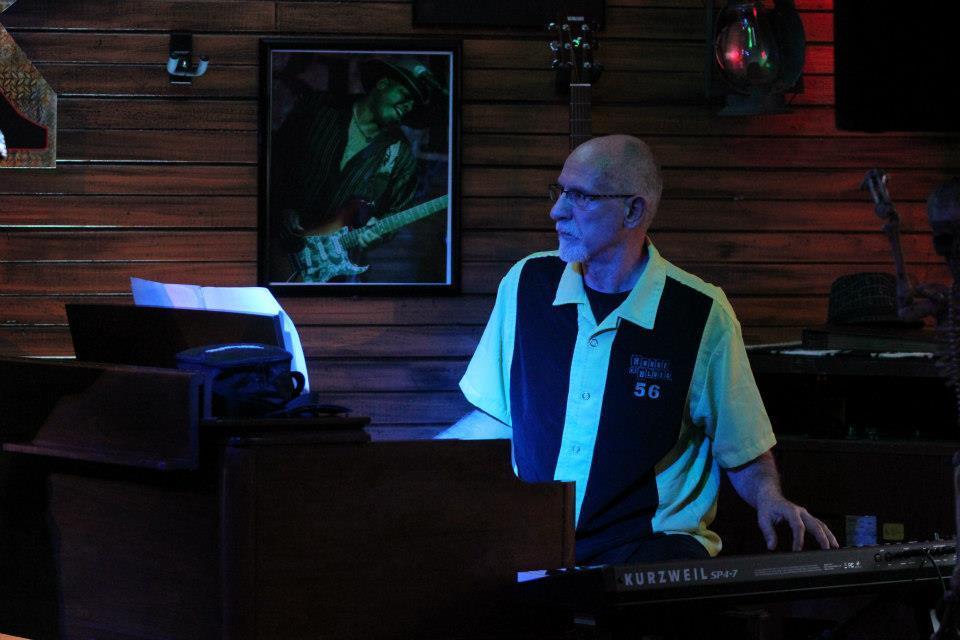 Born and raised in Oklahoma City, Dennis Lusk took organ lessons from age nine until sixteen. "I joined my first band in Oklahoma City when I was thirteen. I played several nights per week from age sixteen until age twenty-four, when I left Oklahoma. Mostly, I played in OKC with the band 'Squatty and The Bottys.' We performed in Oklahoma, Kansas and Texas on the weekends. During the week we played all five nights, for months at a time, at the local Hilton and Holiday Inns. I can actually thank Grant Perry, aka 'Squatty' for my transitioning from a Farfisa Combo Compact to Hammond B-3. Because I was so self-conscious and embarrassed at having to do dance steps with the rest of the band, Grant said if I bought a B-3 and two Leslie speakers he would let me sit down," Dennis said.
"When I was younger, I just wanted to play music, but my family convinced me that I needed a 'real job', so I stopped playing music completely after finishing college. I moved from Oklahoma just days after graduation. Since I moved to Seattle without knowing anyone there or having anywhere to stay, I sold everything I owned that wouldn't fit in my VW Scirocco. Of course, this included my beloved B-3 and two Leslie speakers."
Dennis moved to Portland around 1986. After an extensive break from performing, about 34 years, Dennis started taking lessons from Dover Weinberg about eight years ago. That got him back gigging. "I began playing blues in Portland just over seven years ago when Kevin Selfe finally convinced me to come to the jam he was hosting at The Refectory."
Dennis worked in sales and marketing jobs in telecommunications and financial services. "Last year I was playing a lot of gigs with Kevin Selfe and The Tornadoes. So, in December I retired early with the dream of getting more than three hours sleep after a gig before having to get up and go to my day job. I still wake up after only three hours sleep, but I'm really enjoying being able to roll over and go back to sleep instead going to work and needing at least two pastries and four cups of coffee to get me through the morning," he said.
When asked how he would describe his music, Dennis said, "That is a tough one for me. Since I am part of the rhythm section, I try to listen to what is being played, then find a place that I can fit in by playing to the style of the song and complimenting or reinforcing another instrumentalist or vocalist harmonically or rhythmically; even laying out completely if that is what seems appropriate to support the other musicians."
"I played Hammond B-3 in bands back in Oklahoma, having bought my first B-3 in 1974. Although I had two Leslie 122RV speakers on stage, they weren't miked and we were an eight-piece soul band, so I got used to being in the background and not fully cutting through the mix. People would often come up to me and say: "I can't hear you." I'd tell them to listen to what happens when I stop playing. The organ was there to fill things out and there was a noticeable hole when I quit playing."
Musical Influences
In his early teens Dennis enjoyed listening to Felix Cavaliere, Billy Preston and Steve Winwood. "I also listened to a lot of Booker T. Jones and Jimmy Smith. I started listening to Mike Finnegan when he was with The Serfs and still enjoy listening to his music. More recently, I'd like to add Big John Patton, Baby Face Willette, Dr. Lonnie Smith and Freddie Roach along with Bruce Katz and Dave Limina to the list of influential keyboardists."
"There have also been a number of musicians in the Portland music scene who have laid the groundwork for my returning to music, either influencing me through their own style of playing or for the encouragement and advice they have given. There are too many to mention individually, but the two that actually got me back on stage, after 34 years of not playing, stand at the top of that list and they are Dover Weinberg and Kevin Selfe. Also, two friends I met at my very first CBA meeting were Linda Myers and Harvey Wicklund. They were kind enough to let me share the stage on a couple of gigs when I was first getting started and have always been very supportive as well."
Awards
Although Dennis hasn't won any individual awards, he did have the good fortune of receiving a 2016 Muddy Award in the Performance of the Year category for his participation in the Kevin Selfe "Buy My Soul Back" CD Release Party at the Bossanova Ballroom.
Musicians Dennis Has Played With
Dennis said he's had the pleasure of playing with many top local musicians, whether sitting in at jams, or playing some gigs. "For the sake of obligatory name dropping, I'll mention just a few of the local notables that I've been able to join on stage for a few tunes or more. In no particular order I have played with the likes of Mitch Kashmar, Lisa Mann, Michael Osborn, Jimi Bott, Curtis Salgado, Ben Jones, David Stassens, and Brian Foxworth. There are so many other talented keyboard players in town, I feel very fortunate to have been able to share the stage with those mentioned as well as many others I've been given the honor of joining on stage."
"The band I've had the closest association with has to be Kevin Selfe and The Tornadoes. Kevin, along with his band mates, Don Shultz and Allen Markel have really helped me immeasurably get to where I am as a player today. I'm not really sure where I am as a player right now, but, depending upon your perspective, you can either thank or blame these fellas for bringing me to this place in time musically."
"Second to Kevin Selfe and The Tornadoes has to be AC Porter and the Livewires. AC has graciously allowed me to share the stage with him as well as his bandmates, Timmer Blakely, John Moore and Whit Draper, on many occasions at The Blue Diamond. I've also had the opportunity to play some gigs with Harvey Brindell and The Tablerockers and, most recently, with PDX Social Club. Last year I was a member of the house band at the Blue Monday jam put on by Franco Paletta."
Although he doesn't have any CD's he did record enough songs for a CD several months ago at Roseleaf Recording, strictly for the purpose of having a demo to possibly market an organ combo. Those songs can be found on his ReverbNation page. "I would certainly like to personally acknowledge the musicians who performed on the demo I created. They are: Jimi Bott, drums; David Stassens, guitar; and Peter Moss, saxophone and flute. All are outstanding musicians who greatly helped to make my first recording session an enjoyable learning experience," Dennis said.
https://cascadebluesassociation.org/wp-content/uploads/2017/10/Dennis_Lusk.jpg
640
960
Wendy Schumer
https://cascadebluesassociation.org/wp-content/uploads/2020/10/CBA_Logo_top_main.png
Wendy Schumer
2017-10-30 11:04:00
2017-10-31 08:43:15
Portland Organist Dennis Lusk Continues His Long Musical Journey