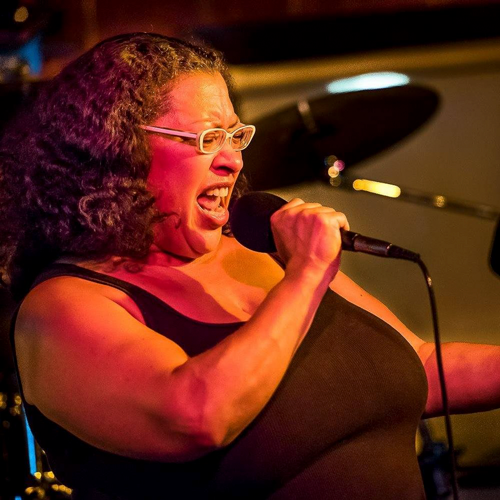 Portland singer and diva Lorna Bracken Baxter keeps her family's rich musical legacy alive
By John Rumler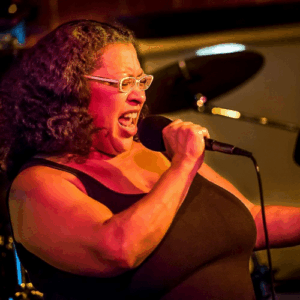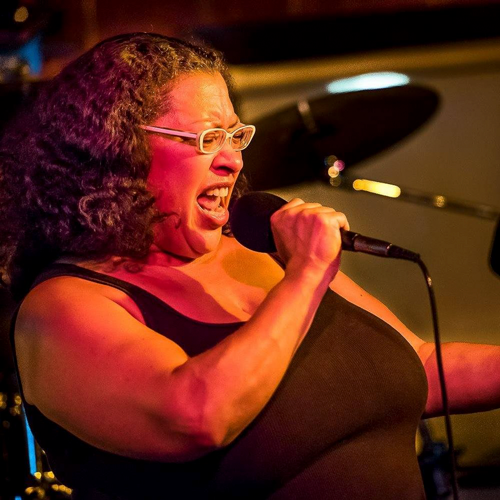 From a very early age, vocalist Lorna Bracken Baxter knew that she was going to devote her life to singing and music. "It has always been in me, from the earliest times I could remember sitting at the piano with my dad at home."
It's been a sometimes bumpy road, but the Lorna Baxter Trio (Billy Hagen, guitar, Joey Aloia, bass) enjoyed a banner year in 2016, playing Lair Hill Bistro, Magnolia's Corner, Maryhill Winery,  Solea's, Mock Crest, Orenco Station Grill, Holiday Park, and numerous private parties, company events, and weddings.  Lorna looks forward to an even better year in 2017.
Her father, Warren Bracken, was one of Portland's giants of both jazz and blues.  Few artists in Portland, or anywhere perhaps, have a music pedigree as impressive as Lorna, who, from the ages of 12 to 18, was the only child singing in an all adult church choir, the St. Rose Choir in Portland. At the time, in the early 1970's there was a national campaign to "keep Christ in Christmas," and after a nation-wide competition, the choir was selected as the winner and was nationally televised out of the Hilton Hotel in downtown Portland.
When Lorna was growing up, her musical influences were numerous, including female artists such as Betty Carter, Carmen McRae, Cleo Laine, Dinah Washington, Joan Baez, Joni Mitchell, Lena Horne, Nancy Wilson, Mahalia Jackson, Patsy Cline and local artist Nancy King.
"I loved how I could feel what they were singing," Lorna says. "The pain, joy, the sexiness and I was drawn to the uniqueness of each of their voices."
Her biggest musical influence though, is without any doubt her father. Born and raised in Paducah Kentucky, Mr. Bracken learned to play the ukulele and in the 1930's he joined the Navy and became the conductor, bandleader and pianist of the US Navy Orchestra.  After receiving his honorable discharge, Bracken joined the Blanche Calloway (Cab Calloway's older sister) Orchestra and a few years later, in the early 40's, he joined Billy Eckstein's orchestra as composer, arranger, and pianist.
When Eckstein began moving in a different direction after signing with MGM, he cut down his big band orchestra to a quintet and left Chicago for sunny California with a lineup of Al Killian -trumpet, Sonny Criss- alto sax, Wardell Gray-tenor sax, Shifty Henry – bass, Tim Kennedy -drums and Warren Bracken – piano.
In California, Bracken married Vivian Dandridge (Dorothy's sister) although they later divorced. He moved up to Portland in the late 40's, and formed his own scaled-down orchestra and became one of the city's top performers/bandleaders known for his swinging jazz, bebop and blues.
Growing up in an environment where music was a way of life, Lorna engaged in many musical adventures. When she was still in her teens, she sang in a variety of backyard and basement bands and she also did back up singing for a studio recording for the Rude Boys.
In 1982 she moved to Canada, and lived for 14 years on Vancouver Island and in Halifax, Nova Scotia. "It certainly wasn't a blues mecca, but there was an interesting folk influence there that came at me from a different angle and I got to really like it," she says.
Lorna worked at a group home for troubled youth and enjoyed providing a stabilizing and understanding presence. "They were runaways, throwaways, abused kids from very bad situations," she recalls. Lorna and all the staff took many psychology classes and attended numerous counseling workshops, which she says, was a valuable learning experience. "We all grew a lot and it helped us all in our own relationships and with our own families."
When time allowed, Lorna sang backup for other musicians, recorded with folk artist Jason Guest, and then moved back to Oregon in 1996 when her father died unexpectedly of heart failure: he'd struggled for much of his life with his weight, topping 400 pounds but at the time of his death, he drastically lost weight and weighed less than half of that.
Though Lorna lived in Canada and her father lived in Portland, she visited often and the two talked frequently on the phone. "We were always close. My dad, even though music was his life, remained a pretty balanced person. He was a fabulous listener and he was a sports nut—baseball, basketball, football, boxing, you name it."
1996 Lorna settled back into Portland focusing on work and her family. When the music bug bit her again, she started circulating in the blues and jazz community seeing various artists including Paul Delay, Janice Scroggins, Nancy King, Linda Hornbuckle, Norman Sylvester and Franco Paletta. She says of Franco, who she's known since 1982,  "Franco was bringing his harmonica to different jam sessions when I first met him. I knew him when he was just starting out."
Around 2000 Lorna started hitting the blues and jazz jams with more frequency.
Sitting in with Norman Sylvester and his band at the Coliseum Red Lion and Candelight lounge, Janice Scroggins and Linda Hornbuckle at Billy Reeds.
Ron Steen, the drummer in her dad's band for many years, was a big help, as Lorna frequented the jams at Steen's Coffeehouse. Steen later booked and performed with her at Wilfs in downtown Portland.
But Lorna's asthma became more of a problem, especially with the late night gigs in smoked filled rooms and bars. She often stopped in a Jimmy Maks to see Mel Brown and at Jazz de Opus to see Nancy King, but when she got home, she had to air out her clothes in the garage, shower to get rid of the nicotine film on her skin, and deal with the asthma onset. "I knew I could never perform in clubs, breathing the smoke-filled air. I figured that might be the end of my singing.
But in 2009, smoking was banned in bars, breathing new life into Lorna's singing career.  She met Dan Gray, an extraordinarily gifted guitarist who invited her to work with him on some original music and was the encouraging factor to her forming a band.  The following year she launched the Lorna B band which featured top notch musicians such as Brett Malmquist on guitar, Donny Osborne, who played with Mel Torme, on drums and a host of others including Johnny Ward and Adrian Baxter of the Cherry Poppin Daddies on saxophone.  She also invited her brother Phil Reid who played bass, to join her band.
Lorna continued pushing into new musical frontiers with Johnnie Corrie and David Burrow on drums and she nailed down steady gigs at the Beaterville Restaurant and the Gotham Tavern in North Portland. She also played private parties, company events, street fairs, and charity events for groups such as the Oregon Humane Society and local Vietnam Veteran groups.
In 2012, just when all the doors seemed to be opening up for Lorna, she was attacked and severely injured which still affects her today. The trauma caused a spinal leak, permanent memory impairment and left a ringing and hissing sensation in her ears.
She was told she'd never be able to sing at her full volume again, but Lorna didn't give up. The Blue Monk put on a successful benefit concert event for her in 2012 which helped some financially and boosted her spirits. Although she was forced to go on permanent disability, Lorna stubbornly inched forward in her recovery. "I lost a lot of things, but thankful I could remember the blues and jazz. I am so grateful for that," she says.
In April of 2019, OPB aired a film entitled Jazz Town which tells the story of Portland's Blues and Jazz scene, featuring her father, Warren Bracken and many of the city's musical legends. Lorna, with her trio consisting of guitarist Billy Hagen and bassist Joey Aloia, were invited to perform at the pre-screening where many of Portland's finest senior musicians appeared, including Lloyd Allen who played in one of her dad's early quartets.
Billy Hagen, who's appeared on stage 3 times with Chuck Berry and was the lead guitarist for Mel Brown and Johnny Limbo and the Lugnuts, played often with the Lorna B Trio. "Lorna's got a sweet, smooth voice, yet she can also belt it out and improvise really well. She also has a very advanced use of intervals."
Ashbolt Stewart, one of the top drummers and bandleaders in Portland, has known Lorna for so long he says he can't remember when they first met. "She's been at this for a long time, we're both old souls," he says. "Lorna's one of my favorite go-to gals.   She's working really hard and getting around, she's doing great." Ashbolt said he loved playing with her band. "I love Lorna's energy, optimism, and honesty. She never holds back."
Now living outside of Eugene, Bobby Selover plays guitar, mandolin, banjo and pedal steel for Gumbo Groove, a jazzy bluegrass band that recently released its third CD. Selover played with the Lorna Baxter Trio in 2011 and 2012. "She's a happy, bubbly person, very fun to be around as well as an excellent singer, performer, and entertainer," he says. Selover describes her musical range as highly impressive. "It's not just blues, but anything from Nina Simone to Billie Holiday to Miles Davis, to Gil Scott Herron. I talk to Lorna often on the phone and just the other day and I can't wait to play with her again."
Lorna and her band play regularly at Kimpton Hotel Vintage and at Orenco Station Grill.
For more information on Lorna and a full calendar listing, go to www.lornabsings.com
https://cascadebluesassociation.org/wp-content/uploads/2017/02/Lorna_Bracken_Baxter.png
500
500
Wendy Schumer
https://cascadebluesassociation.org/wp-content/uploads/2020/10/CBA_Logo_top_main.png
Wendy Schumer
2017-02-23 12:29:50
2019-02-21 14:23:59
The Lady Sings the Blues, and Jazz Too