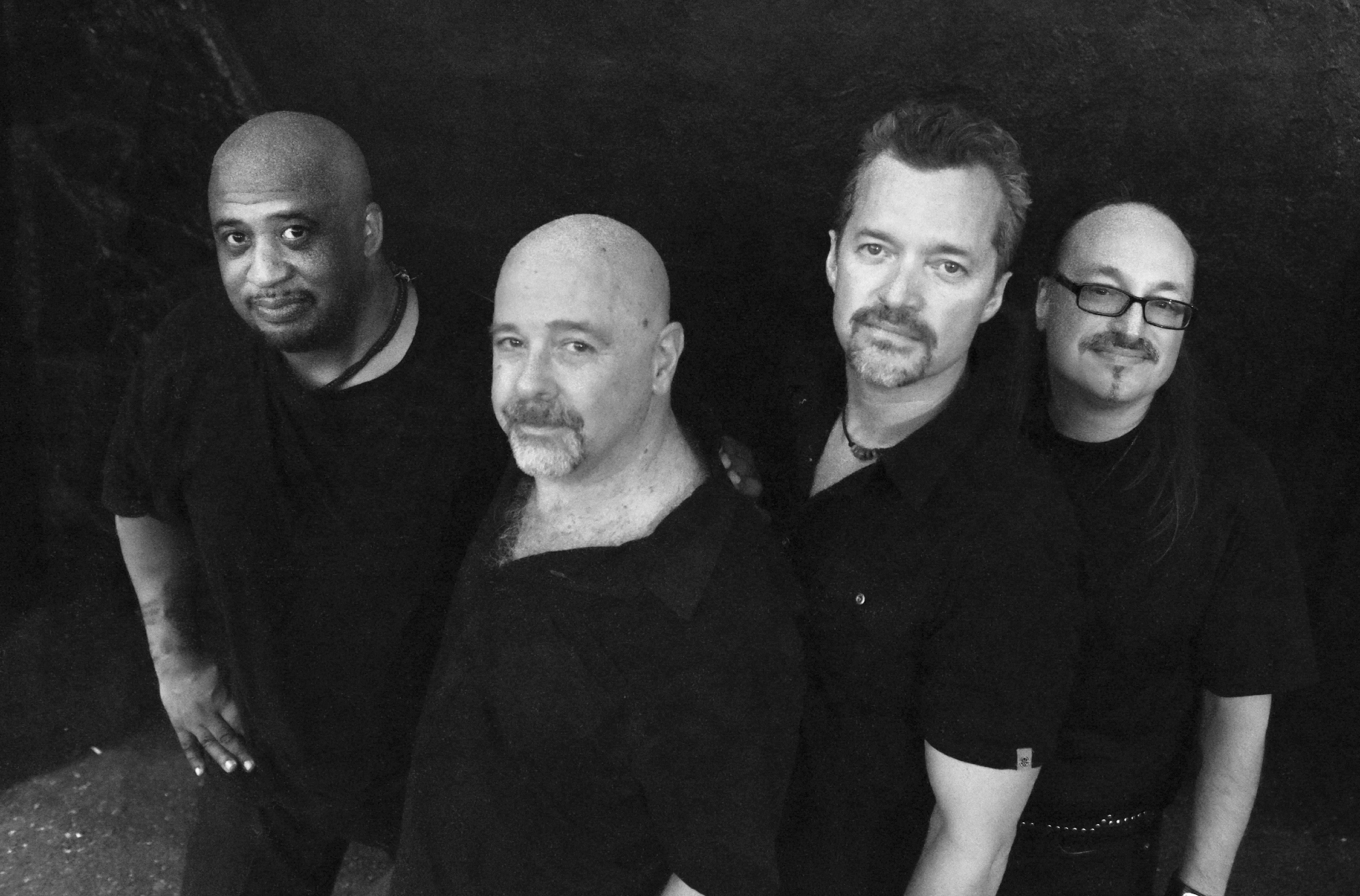 By Laurie Morrisey
The Thunder Brothers are one of the final four bands competing in the Journey to Memphis competition during the 2016 Safeway Waterfront Blues Festival. This is a group that has played with others locally and in other configurations, but joined together to compete this year. The finals will be held on Monday, July 4 on the Front Porch Stage, beginning at 11:30am.
"High energy, expertly executed, funky blues! We all have a blast playing this music…emotion–very simple…music is emotion…no fake stuff…all passion…and pure Thunder," that's how the Thunder Brothers describe their music. But you have to check them out yourselves to fully appreciate their sound that will have your toes tapping and your head bobbing.
Band Members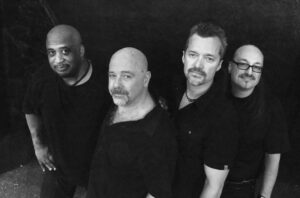 The Thunder Brothers include: Michael Quinby on guitar; Doug Rowell on guitar; Edwin Coleman III on drums; and Timmer Blakely on bass. All of the band members take their turn at vocals.
Michael Quinby—I have always wanted to be a musician. My father is a professional musician and a music teacher, so I come by it "honestly." I'm a self-taught musician—in spite of my father's best efforts. He really allowed me to learn my own way.
I played my very first professional gig at the age of 14 (seventy million years ago) at the Vintage Inn in Ashland, OR. I have been working to support myself as a musician ever since that debut.
I've played with Doug and Timmer several times over the last two years in support of Karen Lovely. Edwin subbed one time, three years ago, for the Roseland Hunters.
Doug Rowell—I have been performing professionally over 40 years. I knew at an early age that I wanted to be a guitarist. As a boy I had classical piano lessons. These laid a foundation for my "self-taught" guitar method. My training came from the bars and roadhouses I began playing at when I was 18 years old. I have been blessed to have made a living in the entertainment industry in many capacities.
I have performed in several different bands with Timmer over the past five years and with Michael in different settings for a couple of years. Edwin is the newest member, joining us a couple of months ago.
Edwin Coleman III—Growing up I wanted to be a professional boxer, football player or musician. Looks like music won. I studied piano and cello for many years but am self-taught on drums. During the day I work for PGE and also as a freelance cartoonist.
Before The Thunder Brothers, I played A few gigs with Quinby, but this is my first time with badass Timmer and badass Doug.
Tiamer Blakely—I've been playing professionally for nearly 38 years. I took piano lessons at the age of 5, band in high school and college, and years of learning anything anyone would teach me. Ironically, teaching has taught me a lot. Continuously explaining the theories and concepts through the teaching process inadvertently causes you to really see and understand how everything works together in music.
When I began performing at 12, I knew then that music would be my life.  I also teach bass, guitar, music theory, and overall musicianship at the Rhythm House in Vancouver and my private studio in Hillsboro. And I work freelance with a number of local, regional, and national bands.
Doug and I first worked together professionally a few years back with Franco and the Stingers. Then again last year with Karen Lovely. I met Michael playing with Karen as well. Michael introduced me to Edwin and The Thunder Brothers is my first project with Edwin.
Influences
Michael explains that the musical influences in his life were his father, Stevie Ray Vaughan, and Nick Daniels III.
Doug cited his #1 influence as The Beatles. "As a child, their music was the inspiration for me to play music. The English Invasion exposed me to American blues. Led Zeppelin, Cream, early Fleetwood Mac all made an impact on me. The first time I heard Jimi Hendrix cannot be described in words. My introduction to the blues was through this window of artists covering the now legendary blues masters. I remember hearing Albert King and thinking he stole all of his stuff from Eric Clapton. Then I noticed the recording date," he said, laughing.
Edwin says his professional jazz musician parents (Dad is a bass player, my mom sings) were his big influences. "I grew up listening to Dad's blues, jazz and Afro Cuban records. He played with top Afro-Cuban bands, and my favorites being John Lee Hooker, Satchmo, Count Basie, Tito Puente, Cal Tjader, and James Brown."
Timmer says The Beatles were the main starting point for him. "My list of influences includes the usual suspects like Led Zeppelin, Pink Floyd, SRV, Robben Ford, etc. I think that my biggest influences were all of Portland's great bassists like the late Phil Haxton, Dave Kahl, Andy Strange, John Mazzocco, Jim Solberg, etc. I spent night after night listening to those guys. I'm sure that I stole most of my riffs from them."
CD's
The Thunder Brothers will be releasing their debut EP at the 2016 Waterfront Blues Festival. They intend to add material to the EP for a full length CD to be released by the end of the summer.
Upcoming Shows
For more information on upcoming shows visit The Thunder Brothers on their Facebook page.
https://cascadebluesassociation.org/wp-content/uploads/2016/06/thunder-brothers-Photo-by-Ross-William-Hamilton.jpg
1483
2250
Wendy Schumer
https://cascadebluesassociation.org/wp-content/uploads/2020/10/CBA_Logo_top_main.png
Wendy Schumer
2016-06-25 08:30:56
2016-06-25 17:17:30
Thunder Brothers Have Rumbled Into the Portland Blues Scene and Are Taking It By Storm