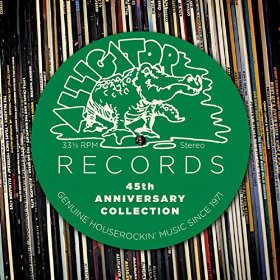 Various Artists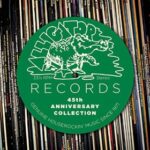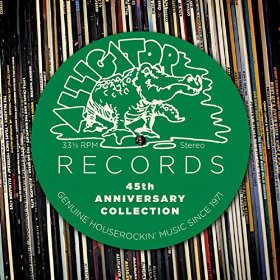 Alligator Records
When you write anything about Alligator Records, you might as well be writing the history of the blues itself during the past four-and-a-half decades. Bruce Iglauer created the label to provide an outlet to record blues musician Hound Dog Taylor, one of many artists who worked in the venues and along Maxwell Street in Chicago who were not receiving the recognition that they deserved. Taylor was Iglauer's sole client at the time, but it was from that point that one of the greatest and longest lasting blues labels began, and it still rules today.
Literally, I am not fooling when I say the history of the blues. Every five years, Alligator offers a collection of its music to celebrate its anniversary, and all you have to do is open the latest collection to hear that history. On Alligator Records forty-fifth Anniversary Collection you'll find legendary names of artists long held in the highest revere such as Johnny Winter, Luther Allison, Koko Taylor, Charlie Musselwhite, Albert Collins, Bonnie Raitt, Big Walter Horton, Mavis Staples, James Cotton, and Billy Boy Arnold, many of whom are no longer with us. But they also display just how much the label continues to bring forth the best and the brightest of the industry today with the likes of Selwyn Birchwood, Curtis Salgado, Jarekus Singleton, Moreland & Arbuckle, Toranzo Cannon, Tommy Castro, and Shemekia Copeland. Each of these artists could fill hundreds of pages documenting their individual contributions to the genre and Alligator could probably fill a warehouse to store the awards that their recordings of these and many others have reaped over the years.
But by no means does this signify the end of the label. As long as there are creative musicians with their visions of the blues, Alligator will continue to provide an outlet for there music even as it expands into other musical realms like gospel, rockabilly, and Americana. The blues may not get a lot of notice from other labels that receive high media attention. But as long as Alligator Records keeps going there will always be an open door, and may that door remain open for many more decades to come.
Total Time:  2:37:55
37 Tracks
https://cascadebluesassociation.org/wp-content/uploads/2016/06/Alligator-Records-45-Anniversary-CD-cover.jpg
280
280
Wendy Schumer
https://cascadebluesassociation.org/wp-content/uploads/2020/10/CBA_Logo_top_main.png
Wendy Schumer
2016-06-25 08:42:03
2016-06-25 17:25:55
Alligator Records Forty-Fifth Anniversary Collection