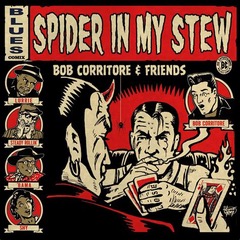 Bob Corritore
Spider in My Stew
VizzTone
Review by Randy Murphy
Blues impresario Bob Corritore's newest release, "Spider in My Stew," is a rousing collection of (mostly) definitive, old-school Chicago blues interpreted by an impressive roll call of musical talent.  Lurrie Bell, Alabama Mike, John Primer, Johnny Rawls (whom the CBA will sponsor at this year's Waterfront Blues Festival), Shy Perry, Oscar Wilson, Diana Greenleaf, Francine Reed, Willie Buck, and Sugaray Rayford all supply impressive vocal performances. Several tunes deserve special attention.
First is Shy Perry's sinewy rendition of "Wang Dang Doodle" that tears off like a bourbon-fueled  and makes this old blues warhorse sound as if it's brand new — no mean trick. It echoes Koko Taylor's famous version, ups the ante a bit, and avoids sounding derivative. Next up is a cover of Muddy Water's "Soon Forgotten" that includes a dazzling mixture of Corritore's stirring harp, Fred Kaplan's fertile piano and Willie Buck's throaty moan. But it's Mr. Rayford who, as usual, threatens to steal the show. In his "Big Mama's Soul Food" Sugaray lays out a potent soul-food shuffle accompanied by Corritore lethal Hohner harmonica and Kid Ramos' rough-hewed guitar licks. It's tasty and mouthwatering and completely marvelous.
Corritore manages a nice balance of gritty, Chicago-style blues—both old standards and newer, less well-known tunes. The one misstep is Bob Dylan's "I Shall Be Released," which, coming at the end of the recording, seems like an afterthought. The problem's not with the musicianship, it's first-rate, or with Francine Reed's fervent vocals, no. It's that "I Shall Be Released" simply doesn't fit in with the texture of the album. Beyond this, though, it's such an iconic song that any recording will struggle to escape The Band's definitive version lurking in the background like a specter.
But this is merely a quibble. This is an album that contains some serious musical chops and boatloads of fun. Highly Recommended.
Total Time: 55:20
Tenessee Woman (feat. Oscar Wilson) / Big Mama's Soul Food (feat. Sugaray Rayford) / Whatcha Gonna Do When Your Baby Leaves You (feat. Alabama Mike) / Don't Mess With the Messer (feat. Diunna Greenleaf) / Spider in My Stew (feat. Lurrie Bell) / Wang Dang Doodle (feat. Shy Perry) / Drop Anchor (feat. Alabama Mike) / Sleeping With the Blues (feat. Johnny Rawls) / Mama Talk to Your Daughter (feat. John Primer) / Why Am I Treated So Bad (feat. Francine Reed) / Soon Forgotten (feat. Willie Buck) / I Can't Shake This Feeling (feat. Lurrie Bell) / Look Out (feat. Alabama Mike) / I Shall Be Released (feat. Francine Reed)
https://cascadebluesassociation.org/wp-content/uploads/2021/05/Bob-Corritore-Spider-In-My-Stew.jpeg
240
240
Shelley Garrett
https://cascadebluesassociation.org/wp-content/uploads/2020/10/CBA_Logo_top_main.png
Shelley Garrett
2021-05-31 10:39:10
2021-05-31 21:33:58
Bob Corritore – Spider in My Stew