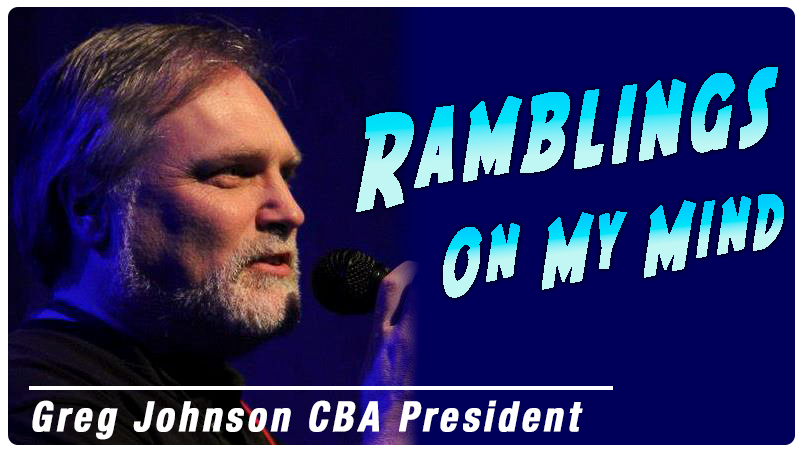 Ramblings on My Mind
August 2020
Greg Johnson, Cascade Blues Association President 
It has been a strange long year with seemingly no end in sight at this point as to when we'll be able to visit our favorite venues to enjoy live blues, or music of any kind for that matter. That is of course if these venues have been able to survive the lengthy shut-down period. Even as things slowly begin to open, not all of us are willing or brave enough to chance the possibility of exposure unknowingly. 
Where has the time gone? One minute it's mid-March with stay at home orders being put in effect, the next thing you know four months have whizzed by us. We've all been craving to go out to hear live music, but for a few exceptions most of what we have had to rely on has been on the internet, with live online performances streamed over Facebook, YouTube and other outlets. Hardly a replacement from the sensation of witnessing it in person. 
The timing for the Journey to Memphis, Gorge Blues & Brews, Cider Fest, Waterfront Blues Festival, Cathedral Park Jazz Festival have come and gone. Other events that our members may travel to such as Chicago Blues Festival, New Orleans Jazz Fest, Blues Music Awards, Winthrop, Sisters, Sunbanks, Blues Bender were all cancelled long in advance. It's not easy to be a live music fan in this time and age. 
This certainly hurts the CBA in a number of ways. With no meetings or large events that we participate in, it means next to no income other than memberships sold. As we all know this hit us first with the printing of the BluesNotes. It is hard to exist as a business when you're putting out more money each month than what is coming in. Yes, there are still expenses we must take on; our storage unit for example. Fortunately, we gave up our office space a couple years ago. Our current position with the BluesNotes has cut back on editor and printing fees, and without being able to hold our monthly meetings we are not paying for sound currently. But we are hoping that this pandemic comes to an end regardless of expenses that will need to resume. We miss our members and the music. Our mission is based on supporting it and we're trying to maintain that vision however we can. 
One of those positions we took on was to assist Portland Parks & Recreation. They had to cancel all musical events for the public throughout the summer, focusing more on feeding children who rely on school meals. To help with this and to provide a little entertainment and some income for musicians, we partnered to provide music for the children and their families during a number of their lunch distributions. Funds were provided partially by what we had planned on helping the Waterfront Blues Festival in presenting an act; and also through a GoFundMe program. CBA Member musicians submitted applications to be considered, and all that did should be able to perform. Individual slots were drawn at random during a live feed streamed on Facebook. And it doesn't end there. Depending on funds raised, we may be able to work with the City with some evening performances for the public. But it all depends on what can be raised and the reopening phase that can be reached during the season. 
An issue that we may be facing once we're able to return to our normal activities is the location of our monthly meetings. At this time, the possibility is there that The East Eagles Lodge may not be reopening. Seems like we've been through a lot of relocations over the past few years, and we will get through this as well if need be. If we do have to relocate, we want to continue in a spot that is centrally located and open to minors. Available nearby parking, food available and the room donated as part of a not-for-profit organization recognition. Please keep your eyes open and let us know if you know of anything that might suit us. 
But let's focus on getting through this with our health and sanity first. Music will return and we'll be back again. Just be safe out there everyone. Wear your masks and keep your social distancing. This won't last forever, but if we continue to take the proper precautions, it'll come quicker than not. 
https://cascadebluesassociation.org/wp-content/uploads/2017/05/Ramblings_2017.png
453
805
Shelley Garrett
https://cascadebluesassociation.org/wp-content/uploads/2020/10/CBA_Logo_top_main.png
Shelley Garrett
2020-07-31 14:49:47
2020-07-31 14:53:44
Ramblings On My Mind August 2020