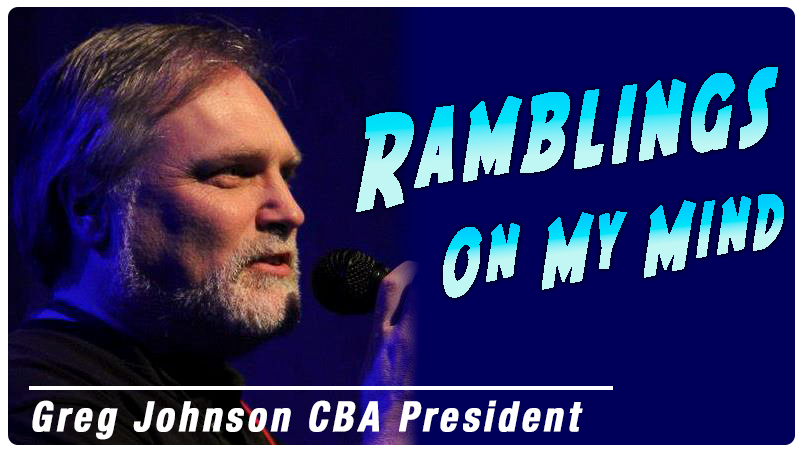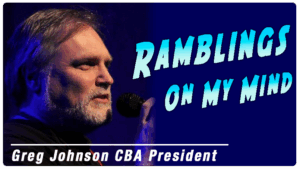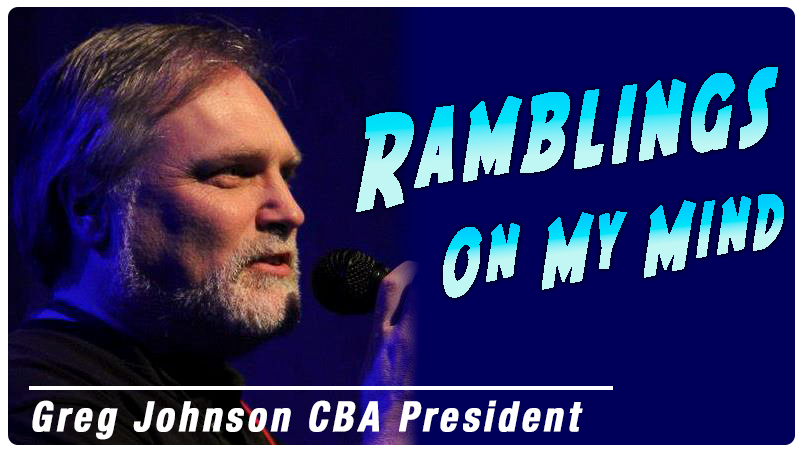 Greg Johnson, CBA President
As I explained last month, for the first time since 2003 I did not make the trip back to Memphis for the International Blues Challenge, but that doesn't mean I didn't keep track of how our regional acts fared. And as always, they gave their all and performed as our representatives above and beyond expectations.
The most important thing about taken part in the IBC is to get yourself out in front of the blues industry people on hand and to make as many friends with other musicians as possible. This can sometimes be more important than actually winning the event. So many top name musicians came up by performing at the IBC without having even made the finals let alone winning. So do not believe for a second that because our own acts may not have made it to the stage at the Orpheum for the finals does not mean that they were not winners themselves. They were already winners having received the right to compete in Memphis to begin with by winning the Journey to Memphis right here at home.
Timothy James & The Portland Blues Revival made the most of their time by playing as often as possible, not only in the youth showcase and Northwest Showcase, but also in as many jams as they could get on stage for.
Dean Mueller & Julie Amici took the time to do some traveling when they went back east. They may not have made it beyond the first round, but they made many memories in Tennessee and beyond, including a stop in Nashville where Dean had worked it out where Julie was able to take the stage with Vince Gill and sing a Hank Williams number.
Sister Mercy accomplished another great trip by making the semi-finals for the second time. That in itself is a feat not to take lightly. Thousands of bands compete from around the world every year to have the right to go to Memphis and only a handful can move forward to the semi-finals and to the finals. Making the semis twice is something to be extremely proud of and hopefully they'll receive recognition by other regions as well as our own.
To witness how the acts performed in Memphis, go to YouTube.com and the acts' Facebook pages. We're lucky to have family members and friends who recorded their sets, so even if you could not be there, you still have the opportunity to see their performances.
Congratulations to Sister Mercy, Julie Amici and Timothy James and the boys. As I said you're all winners! The overall winners of the event were Houston Blues Society's Keesha Pratt Band as the top band, with Memphis Blues Society's Fuzzy Jeffries & The Kings of Memphis in second and Santa Clarita Valley Blues Society's Artut Menezes third. In the solo/duo category Central Iowa Blues Society's Kevin Burt took first and Norway's Olso Bluesklubb's Daniel Eriksen was second. Artur Menezes was the band top guitar winner and Kevin Burt the solo/duo top guitar and top harmonica winner. Best self-produced CD winner was Jontavious Willis for his disc Blue Metamorphasis representing the Atlanta Blues Society.
Now let's start talking about who will be heading back to Memphis next year. Applications are open and dates are set for the Journey to Memphis. Okay . . . ready, set, go! Get on the ball and apply for your chance to make blues history . . . in Portland, the Northwest and the world!
https://cascadebluesassociation.org/wp-content/uploads/2017/05/Ramblings_2017.png
453
805
Wendy Schumer
https://cascadebluesassociation.org/wp-content/uploads/2020/10/CBA_Logo_top_main.png
Wendy Schumer
2018-03-09 09:27:48
2018-03-09 12:50:58
Ramblings on My Mind – March 2018