Cathedral Park Jazz Festival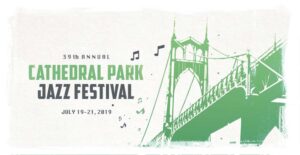 The Oregon Jazz Society's Cathedral Park Jazz Festival is a free concert open to the public and held over three days, July 19 through 21, at Cathedral Park at the base of the St. Johns bridge. Now in its thirty-ninth year, the festival is the longest running jazz and blues festival west of the Mississippi River.
Features the region's best local jazz and blues musicians,the Festival begins Friday night with dynamic Blues, R&B, and Soul. Saturday and Sunday will feature multiple styles of Jazz in all their glory. The stage is situated in a natural amphitheater with a backdrop of the beautiful Willamette River to the west and the mighty St Johns Bridge overhead. The lush, green, and beautifully-maintained festival grounds are the perfect place to bring a picnic or to purchase delicious offerings available from our food vendors.
Friday, July 19, 2019
5:00 – 5:30 pm Chance Hayden
6:00 – 7:00 pm Tyrone Hendrix PDX Soul w/ Portland Cello Project
7:30 – 8:30 pm Karen Lovely
9:00 – 10:00 pm Farnell Newton & the Othership
Saturday, July 20, 2019
1:00 – 2:00 pm Mt Hood Jazz Band
2:30 – 3:30 pm Cherry Blossom Orchestra
4:00 – 5:00 pm Painted Mantis
5:30 – 6:30 pm King Louis Organ Trio
7:00 – 8:00 pm David Watson's Rebirth of the Cool
8:30 – 9:45 pm Dina y los Rumberos
Sunday, July 21, 2019
7:00 – 8:15 pm John Gilmore Octet
5:30 – 6:30 pm Dan Faehnle Quartet
4:00 – 5:00 pm Leroy Vinegar Tribute
2:30 – 3:30 pm Devin Phillips Quintet
1:00 – 2:00 pm No Po Big Band