Very few musicians of any stripe so personify a musical genre as completely as Portland's Tony Furtado embodies Americana roots music. Tony is an evocative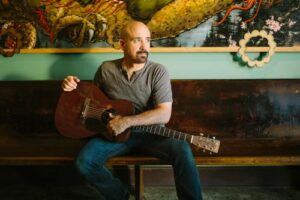 and soulful singer, a wide-ranging songwriter and a virtuoso multi-instrumentalist adept on banjo, cello-banjo, slide guitar, and baritone ukulele who mixes and matches a menu of sounds and styles with the flair of a master chef. Furtado has scheduled a CD release party to be held at The Alberta Rose Theatre, 3000 NE Alberta Street, on Saturday, May 6. He performs in a wide mix of musical styles that have found him performing at major festivals such as varied as Telluride Bluegrass, Aspen Jazz, and Kerrville Folk. Influenced by musicians such as Ry Cooder, Taj Mahal and David Lindley, he has toured alongside artists like Gregg Allman, Derek Trucks, and Sonny Landreth.
"Tony Furtado is a major musical force without a doubt. He has his black-belt in voice and bottleneck guitar and his banjo playing scares the crap out of me." – David Lindley
Furtado's sixth and latest release, The Cider House Sessions," was recorded live at Reverend Nat's in Portland. That will be the focus for his performance at the Alberta Rose Theatre, but expect a night filled with some new tunes, old favorites, and special guests including the band DEAN, who will open the show.
Show time is 8:00 pm, with doors opening at 7:00 pm. Tickets can be obtained in advance through Ticketbiscuit.com for $15.00 or for $18.00 at the door day of show. Minors are okay when accompanied by a parent or guardian.