Chris Daniels and The Kings
Blues With Horns Vol. 1
Moon Voyage Records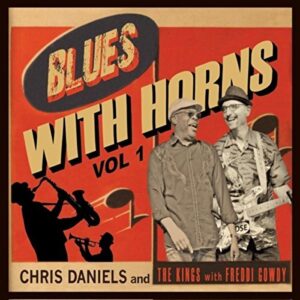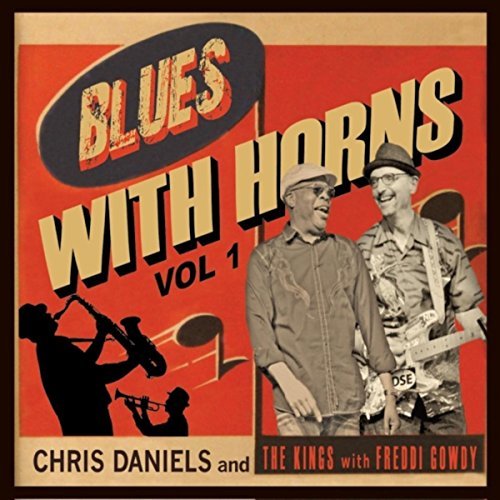 Chris Daniels and the Kings have been a Denver-area mainstay for the past thirty-three years, with fifteen recordings under their belt and have performed throughout the United States and into Europe. Led by guitarist Chris Daniels, the band also features the soulful vocal talents of Freddi Gowdy.
Their latest release, Blues With Horns Vol. 1, is a throwback to a time when horn-backed bands were more the norm than they are now. There is a lot of power behind the sound that recalls the blues and soul of the sixties and seventies from acts like Bobby Bland, James Brown, Johnnie Taylor and others. It is quite evident in the choice of songs performed here.
The band ignites new takes of Johnny "Guitar" Watson on a couple tracks, "Baby's In Love With The Radio" and "You Can Stay But That Noise Must Go. Bobby Bland's "Wouldn't Treat A Dog (The Way You Treated Me)," Buddy Miles' "Them Changes," Sam Cooke's "Soothe Me Baby" and Elvin Bishop's "Can't Even Do Wrong Right" are also presented in fine, pumped-up fashion.
The band offers three original numbers. Opening with Daniels' penned "Sweet Memphis," it kicks off the disc with those superb horns and the addition of guest guitarist Sonny Landreth supplying some tasteful slide. "Get Up Off The Funk" also delivers the horn goodies, but the album takes a different route with their third original, the closing song "Rain Check." That last piece finds Daniels on acoustic guitar, joined by The Subdudes John Magni on piano, in a somewhat tribute to his mother who told him to live every day for the day and to stop worrying about dying.
Overall, Blues With Horns Vol. 1 is truly an enjoyable recording. It should have you easily jumping and dancing along with the band. Deserving to be heard, don't let this one slip under the radar.
On another note, this disc has to have some of the most creative packaging I've ever seen. It is put together in a gatefold manner that has a shadowbox, 3D effect. Very impressive, just like the music it offers.
Total Time: 42:01
Sweet Memphis / Fried Food Hard Liquor / Get Up Off The Funk / Soothe Me Baby / Wouldn't Treat A Dog (The Way You Treated Me) / Baby's In Love With The Radio / Can't Even Do Wrong Right / You Can Stay But The Noise Must Go / Them Changes / Rain Check