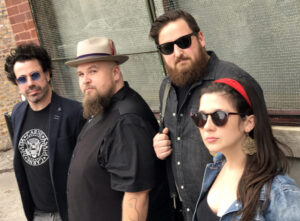 The Claudettes fuse Windy City piano blues with the full-throttle energy of rockabilly and punk, jazz-age echoes of burlesque and vaudeville, and the sultriness of '60s pop-soul to write a thrilling new chapter in American roots music. Group founder Johnny Iguana mashes the piano alongside singer Berit Ulseth, bassist/singer Zach Verdoorn, and drummer Matt Torre. Johnny, who has toured and recorded with blues legends Otis Rush, Junior Wells, Buddy Guy, and James Cotton is also a member of two Grammy-nominated groups: Chicago Blues–A Living History and the Muddy Waters 100 Band.
When The Claudettes perform, they roam through a wide range of dynamics, often following a stomping rocker with a ballad offering the mellowest of mellow tones. They've created their own fanatical fusion of blues and soul-jazz, like Ray Charles on a punk kick. Imagine an amped-up piano hybrid of Otis Spann, Ray Charles, and Mose Allison, joined by a jolly madman drummer and conducted in gonzo fashion by Raymond Scott. There's plenty of Chicago-style piano pounding, but it's also an adventure in melting-pot music, with punk/rockabilly energy as well as lush soulful vocals. It's definitely a performance to be witnessed and one that you'll soon not forget.
You have the chance to catch The Claudettes as they wind their tour through Portland on Wednesday, August 9 at Catfish Lou's, 2460 NW 24th Avenue. Show time for this 21 & over performance is 9:00 pm, with a $8.00 admission at the door, with tickets available in advance only $5.00 through TicketTomato.com.