Crystal Ballroom Welcomes The Devil Makes Three – Two Nights
"There's a road that goes out of every town. All you've got to do is get on it," Pete Bernhard of The Devil Makes Three says.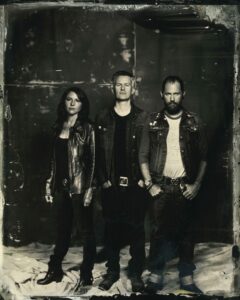 The guitarist/singer and his cohorts in the raw and raucous trio The Devil Makes Three have found their way onto that road numerous times since they first left their picaresque rural hometown of Brattleboro, Vermont. Back then, they had no idea it would lead them to such auspicious destinations as the Newport Folk and Austin City Limits Festivals, Bonnaroo and Lollapalooza, and on tours with Willie Nelson, Emmylou Harris and Rodney Crowell and Trampled By Turtles. Along the way, they drew numerous accolades from a growing fan base and press alike. Along with guitarist Bernhard, the outfit is rounded out by upright bassist Lucia Turino, and guitarist and tenor banjo player Cooper McBean.
The Devil Makes Three is an Americana band from Santa Cruz, California, United States, with a sound that is described as garage-y ragtime, punkified blues, old n' new timey without settling upon a particular era, inspired as much by mountain music as by Preservation Hall jazz. "We bend genres pretty hard," Bernhard says.
Crystal Ballroom, 1332 W Burnside. Friday, November 9 and Saturday, November 10, 9:00 pm. All ages show. Tickets are $29.00 advance through Cascadetickets.com, or $34.00 at the door.