Curtis Salgado The Night's Biggest Winner at 38th Blues Music Awards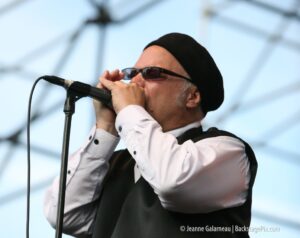 Local blues icon Curtis Salgado received three nominations for this year's prestigious Blues Music Awards and walked away with all three, making him the most awarded artist of the night. Salgado received recognition as Soul Blues Artist of the Year, Soul Blues Recording for The Beautiful Lowdown, and Song of the Year for the tune "Walk a Mile In My Blues" from The Beautiful Lowdown album, co-written by David Duncan and Mike Finnigan. Despite not being able to attend while recovering from a recent heart attack and by-pass surgery, Salgado sent a message to The Blues Foundation thanking the members who voted for the awards and congratulating each of the other nominees. The message also drew a laugh as Salgado mentioned that his doctor told him he could no longer have pork ribs, hot links or sweet potatoes which he was sure many were enjoying while visiting Memphis for the show.
Other multiple winners of the night included Joe Bonamassa taking home the Instrumentalist –  Guitarist Award and the coveted BB King Entertainer of the Year recognition; Bobby Rush for Album of the Year for Porcupine Meat and Historical Album for Chicken Heads: A 50 Year History of Bobby Rush; and the Tedeschi Trucks Band who were honored with Band of the Year and Rock Blues Album for Let Me Get By. (Susan Tedeschi from the band was also named Contemporary Blues Female Artist).
Local musicians Lisa Mann and Jimi Bott were amongst the performers who played in the sixteen musical sets throughout the event. All in all, given the terrific talent that performed, this was a rare night, likely never to be repeated on stage.
The complete list of the 2017 Blues Music Award winners is:
Acoustic Album: "The Happiest Man in the World," Eric Bibb
Acoustic Artist: Doug MacLeod
Album: "Porcupine Meat," Bobby Rush
B.B. King Entertainer: Joe Bonamassa
Band: Tedeschi Trucks Band
Best Emerging Artist Album: "Tengo Blues," Jonn Del Toro Richardson
Contemporary Blues Album: "Bloodline," Kenny Neal
Contemporary Blues Female Artist: Susan Tedeschi
Contemporary Blues Male Artist: Kenny Neal
Historical: "Chicken Heads: A 50-Year History of Bobby Rush," Bobby Rush (Omnivore Recordings)
Instrumentalist-Bass: Biscuit Miller
Instrumentalist-Drums: Cedric Burnside
Instrumentalist-Guitar: Joe Bonamassa
Instrumentalist-Harmonica: Kim Wilson
Instrumentalist-Horn: Terry Hanck
Koko Taylor Award: Diunna Greenleaf
Pinetop Perkins Piano Player: Victor Wainwright
Rock Blues Album: "Let Me Get By," Tedeschi Trucks Band
Song: "Walk a Mile in My Blues" written by David Duncan, Curtis Salgado & Mike Finigan and performed by Curtis Salgado
Soul Blues Album: "The Beautiful Lowdown," Curtis Salgado
Soul Blues Female Artist: Mavis Staples
Soul Blues Male Artist: Curtis Salgado
Traditional Blues Album: "Can't Shake This Feeling," Lurrie Bell
Traditional Blues Male Artist: Bob Margolin