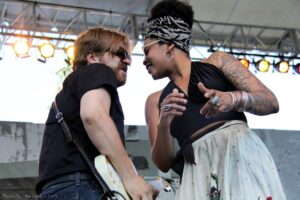 Those who have seen Carolina girl Nikki Hill sing her ass off agree—this isn't just another newcomer on the scene, this is a 'whiplash' moment. Where did this fireball come from? Why haven't I heard of her before? If you haven't heard of Nikki Hill yet, you soon will, and once you see her perform, you won't forget her.
Hill and her band, featuring her Blues Music Award winning husband Matt Hill on guitar, have been touring extensively following the independent 2015 release of Heavy Hearts Hard Fists and the debut album Here's Nikki Hill released in 2013. With a no-filter energy, and explosive live show, they deliver a sound that will make you believe in rock 'n' roll again! Nikki's unique voice, with raw rock and soul dynamics mixed with the strength, passion, and honesty of blues shouters of the past, steers the driving guitar and a tight rhythm section to create a breath of fresh air with their fast forward approach to American roots music.
Nikki Hill returns to Dante's in Portland for what is certain to be another raucous, heart-pounding performance on Thursday, December 7 at 9:00 pm. This is a 21 and over only show, with tickets available at Ticketweb.com for $15.00. Dante's is located at 350 West Burnside Street. Portland's Redray Frazier opens the show.
Nikki Hill also plays on Wednesday, December 6 at 7:00 pm in Medford at Johnny B's, 120 E 6th Street. Contact the venue at (541) 773-1900 for admission information.