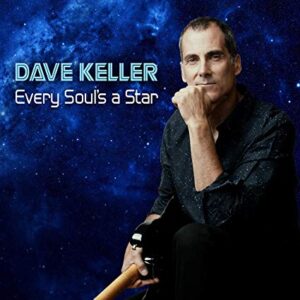 Dave Keller
Every Soul's A Star
Catfood Records
For several years now, I have been singing the praises of New England bluesman Dave Keller. An amazing guitarist and songwriter with a voice that drips pure soulful honey, every album Keller puts out convinces me more and more of his immense talent — and I am not alone. His past recordings have taken home the prize from The Blues Foundation for Best Self-Produced CD (2011's Where I'm Coming From), earned him a Blues Music Award nomination for Soul Blues Album of the Year (2014's Soul Changes) and acclaim from Downbeat Magazine for their best recordings of the year list.
His latest recording, Every Soul's A Star, continues with the same pace of stellar material that raises the bar every time out. Released on Catfood Records out of Texas, it was produced by the legendary Grammy winning Jim Gaines who brought studio magic to the likes of Stevie Ray Vaughan, Luther Allison, Santana, and Van Morrison in the past. Keller is backed by Catfood house band The Rays, made up of some of the finest players from the Lone Star State, including renowned Motown guitarist Johnny McGhee and bassist Bob Trenchard. All of the musicians put forth top of the line performances, but as always with any Keller disc the true star will always be his voice and his knowledge of phrasing his delivery just the right way. His performances can pull at the strings of your heart, filled with emotion that can be deeply filled with love or expressions of such love lost.
Aside from Keller's superb voice, his craftiness for putting together meaningful lyrics is a true gift. The title track explains that you should look at everybody as an individual, everybody has something to offer and to just be who you are. "You Bring The Sunshine" is a love song that sings about the happiness finding the right person can achieve. In "Old Tricks" despite all the misgivings and pain he has suffered from his partner before, he keeps falling for the same old thing from her again and again. "This Is Gonna Hurt" is a break-up song and "Freedom Is Ours" discusses social issues such as immigration and protest.
The lone cover on the album is Ronnie Shannon's "Baby I Love You" best known through Aretha Franklin's stunning presentation. Keller pays tribute to the Queen of Soul yet makes this song all his own with a nice slower and funkier pace.
If you're not hip already to the wonder of Dave Keller, it's high time to take a good listen. Every Soul's A Star rates high amongst this year's top recordings and make no mistake, Dave Keller is one of the top modern soul bluesmen of our time.
Total Time: 42:06
Don't Let Them Take Your Joy / Every Soul's a Star / Baby, I Love You / Old Tricks / You Bring the Sunshine / Freedom Is Ours / This Is Gonna Hurt / It's All in Your Eyes / Kiss Me Like You Miss Me / When Are You Gonna Cry? / Ain't Givin' In
https://cascadebluesassociation.org/wp-content/uploads/2020/06/CBA_Logo-header2-300x66.png
0
0
Greg Johnson
https://cascadebluesassociation.org/wp-content/uploads/2020/06/CBA_Logo-header2-300x66.png
Greg Johnson
2018-12-26 10:14:03
2018-12-24 10:16:33
Dave Keller – Every Soul's A Star