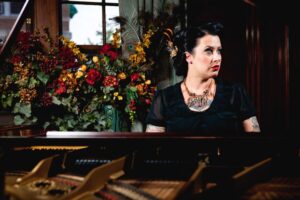 Davina and the Vagabonds are bluesy, blustery, bawdy and irresistibly fun. Davina Sowers and the band have carved their own niche in the blues world with their high-energy live performances and rollicking compositions that combine elements of boogie-woogie, ragtime, early rock and Basin Street, anchored by the prodigiously talented pianist and singer Davina Sowers. Hailing from Minneapolis-Saint Paul, the band built their careers in the trenches of the Twin Cities club scene, playing as many as 300 shows a year before making the jump to international recognition. Their last studio release, Sunshine, received a four-star review from DownBeat, and their new live album, Nicollet and Tenth, documents a typically raucous performance at their hometown club, The Dakota. With a musical signature that marries Sowers' barrelhouse piano and gutsy, sweet vocals with a loose-limbed rhythm section and boisterous brass, Davina and Vagabonds bring an irrepressible energy.
On Friday, August 31, Davina and The Vagabonds will be appearing at The Jaqua Concert Hall at The Shedd Institute for the Arts, 868 High Street, in Eugene. Tickets are $29.00 through Theshedd.org. Show time is 7:30 pm.
Keep posted as a potential show in Portland is in the works for early September.