December's General Membership Meeting Set To Raise The Roof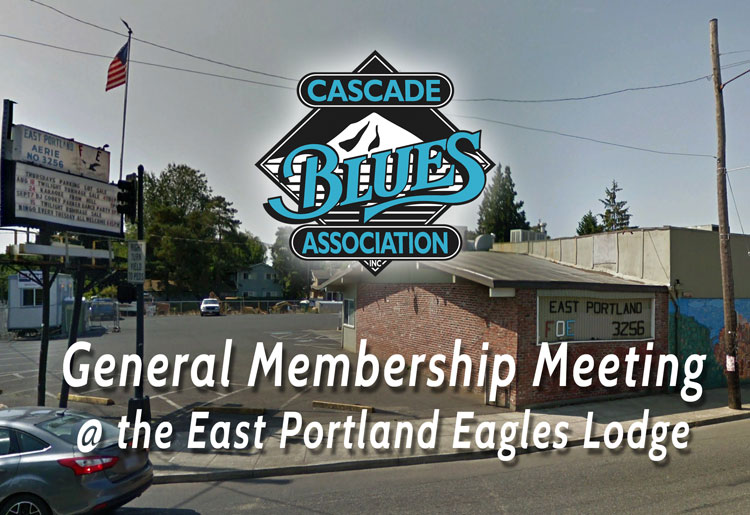 Well, the end of another year is upon us and your CBA has seen a number of changes during that time — moving our memberships meetings from Catfish Lou's to a temporary home at The Mission Theater, then finding a permanent location at The East Portland Eagles Lodge, along with adding color to BluesNotes and kicking off a Musicians Directory. Our board has grown as well and we're starting to see the revision of some of our older programs that have been sorely missing for a while, for instance, offering a "Blues in the Schools" grant to Julie Amici in support of her efforts to bring LaRhonda Steele to rural coastal communities hungry for musical programs.
But you all already know all that, so let's get to the meat and potatoes. That's our monthly general membership meeting and the great music we'll be bringing to you. And this month, as usual, we mean great!!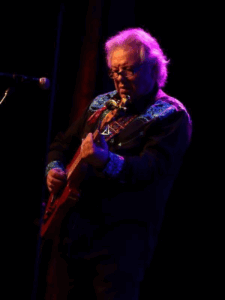 We'll be starting the night off with Mark Shark. With over forty years of guitar playing experience he brought his unique talents to the Pacific Northwest a few years back. This multi-instrumentalist, performer, composer, author and educator has had the good fortune to share the stage and studio with many of his own personal heroes during his career, including Jackson Browne, Jesse Ed Davis, Bonnie Raitt, Taj Mahal, Bob Dylan, and John Trudell. That right there should be enough to show just what an amazing artist we have in our midst with Mark.
He is currently working on two recordings. The first is titled Wild Seed with John Trudell's band Bad Dog, featuring songs from the late indigenous performers Trudell and Jesse Ed Davis. He is also finishing up a blues project he started many years ago with Grammy nominee Terry Wilson (Teresa James, Eric Burdon) titled Treasure Room set to be released in 2020. The album will feature an all star line-up with Teresa James, Lloyd Jones, Johnny Lee Schell, Tony Braunegal, Todd Roibinson, Doug Legacy, Gary Ferguson, Joe-Mack MacCarthy, the late Terry Evans, and John "Juke" Logan.
Joining Mark Shark for his performance is Portland horn master Joe-Mack McCarthy, fresh off a lengthy tour with The Proven Ones.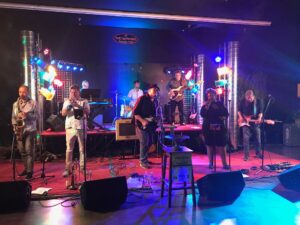 Not to be outdone, the second set of the night will also be a thrill-ride as six-time Muddy Award nominees for the "Lloyd Jones" R&B Act, the Ken DeRouchie Band will ignite the Eagles Lodge with their get down and funky good time music. This 8-piece band runs the gamut playing soul, funk, R&B, and blues, with four-part harmonies and featuring original music from Ken DeRouchie alongside a few handpicked twists on classic tunes. Influences on the band include everything from Aretha Franklin, Lenny Kravitz, Koko Taylor, Steely Dan, Jill Scott, and Galactic.
Top players from the Northwest join DeRouchie, including Northwest soul phenom, Arietta Ward (DooDoo Funk All-stars), long-time KDB bassist Rob Busey (Robbie Laws), virtuoso guitarist Jeff Knudson (Lisa Mann and Her Really Good Band), keyboardist Brian Harris (Curtis Salgado), drummer Paul Ansotegui, Pete Peterson on tenor sax and Caleb Denison on trumpet.  This band has had the pleasure of opening for such national acts as Cheap Trick, Blood Sweat and Tears, Curtis Salgado, Robben Ford, The Cherry Poppin' Daddies, Mary Wilson and the Supremes, and Leftover Salmon.
Portland Radio legend Steve Pringle wrote "Ken and his band bring it each and every night. Horns that moan and wail, guitars that grind and soothe and a rhythm section tighter than a frogs ass. The KDB has a story to tell, pull up a chair."
So don't be sorry that you miss this month's membership meeting, haul yourself down to The Eagles and join in on this party in the making.
The East Portland Eagles Lodge, 4904 SE Hawthorne St, Wednesday, December 4, 7:00 pm. Members are always free (show us your current cards), non-members $5.00. All ages welcome.
https://cascadebluesassociation.org/wp-content/uploads/2019/04/General-Meeting-eagals.jpg
515
750
Greg Johnson
https://cascadebluesassociation.org/wp-content/uploads/2020/10/CBA_Logo_top_main.png
Greg Johnson
2019-11-28 01:30:31
2019-12-02 14:46:14
December's General Membership Meeting Set To Raise The Roof