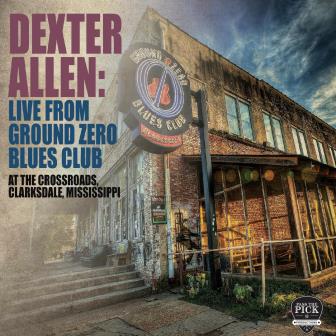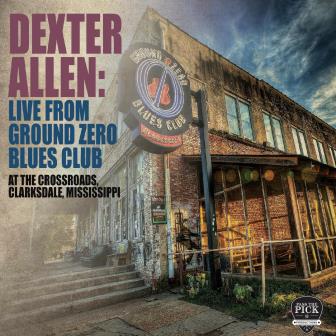 Live From Ground Zero Blues Club At The Crossroads, Clarksdale, Ms
Pass the Pick Productions
Mississippi native Dexter Allen's new album Live From the Ground Zero Blues Club is a suburb live recording that highlights Allen's combustable Stratocaster licks and soulful, muscular vocals. Allen, with his band — bassist Jonah "Lefty" Nelson, drummer John Blackmon, and keyboardist Cedrick Smith — offers an assortment of tunes that ranges from straight-ahead, rock-endued blues to soulful ballads to a funky, and unexpected, cover of Paul McCartney's "Big Barn Bed," which, due to Allen's splendid vocals and fab guitar licks, takes a mediocre McCartney tune and makes it remarkable.
Along with its fine production values — this is simply one of the finest live recordings I've heard in quite a while — there are many songs to commend on this album. It kicks off with Allen's autobiographical "Coming Home to Mississippi" that drenches his recollections of and reflections upon his family in a seriously funky groove that lends the album a warm familiarity.
Another highlight is the slow-tempo "Still Called the Blues" where Allen and Cedrick Smith exchange savory riffs that supply a bluesy musical landscape for Allen's plea for "men and women, boy and girls" to "not give in" to the overwhelming problems life often offers up. It's a poignant message wrapped in sublime music that never stoops to mere sentimentality — the product of a mature songwriter and talented musicians in complete control of their craft.
Finally, the album leaves us "Ain't That A Shame," (the tune's original even if the title is not) a rollicking musical workout with Allen again showcasing his godlike, blistering guitar pyrotechnics. At times subtle and then explosive, it's a fitting conclusion to a terrific live album. Highly Recommended.
Total Time — 1:01:05
Coming Home To Mississippi / Put Your Blues On Me / Tired / Night Time Loving / Hooked / Still Called The Blues / Big Barn Bed / Let It Be Me / Ain't That A Shame
Reviewed by Randy Murphy
https://cascadebluesassociation.org/wp-content/uploads/2019/01/Dexter-Allen-Album-Art.jpg
336
336
Greg Johnson
https://cascadebluesassociation.org/wp-content/uploads/2020/06/CBA_Logo-header2-300x66.png
Greg Johnson
2019-01-29 05:45:01
2019-01-30 09:20:15
Dexter Allen