Dustbowl Revival Presents Two Oregon Shows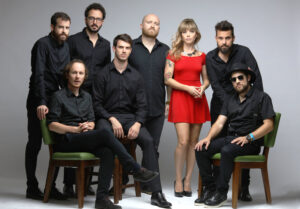 Steeped in bluegrass, swing, hot jazz, Pre-war blues, Southern soul, New Orleans funk, the Dustbowl Revival is an American roots orchestra based in Venice, California with eight full-time members — and they play it all, mashing the sounds of traditional American music into a genre-hopping, time-bending dance party that coaxes fresh fire from familiar coal. But this isn't a throwback band; it's a celebration of the sounds that have kept America moving for more than a century, performed with all the flair of a medicine show and rooted in the sweat and swagger of a juke joint song swap. Beloved for their free-flowing and joyous live shows that combine their funk rhythm and brass section with a fast-picking stringband section, Dustbowl Revival has opened for bands as diverse as Trombone Shorty and The Preservation Hall Jazz Band, toured China as a guest of the state department and headlined festivals all over the world. This is a band that is participating in the evolution of American roots music, tipping a hat to what has come before while looking ahead to what's on the horizon.
Mississippi Studios, 3939 N Mississippi Avenue, will host Dustbowl Revival on Friday, June 2 for an 8:00 pm show. Tickets for this 21 and over show are $13.00 advance and $15.00 day of show.
Dustbowl Revival will also perform in Eugene at the Hi-Fi Lounge, 44 E 7th Avenue, at 10:00 pm, on Saturday Jun 3. Advance tickets are $10.00, day of show at the door is $12.00. 21 and over only.
Tickets for both shows are available through Ticketfly.com.