Fantastic Negrito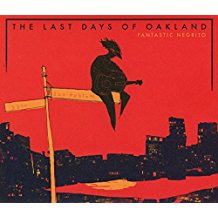 The Last Days Of Oakland
Blackball Universe
If the blues had been born in today's inner cities rather than the Mississippi Delta more than one hundred years ago, it may sound something akin to Fantastic Negrito. This is a blend of traditional blues patterns such as call and response meshed with soul, funk, and hip hop.  It is blues for a modern world filtered through an individual who has experienced first-hand the social issues that divide us and it is a bare-boned raw approach that is completely honest and though at times harsh, it is truly fresh and exciting.
When Fantastic Negrito, whose real name is Xavier Dphrepaulezz, first brought awareness to his music on the blues scene, it was with the song "Lost In a Crowd" that he had entered into NPR's Tiny Desk Concert contest in 2015, taking the prize that year. It was followed with an EP of a handful of strong numbers working alongside the winning number. "Lost In A Crowd" is featured once again on his latest release The Last Days Of Oakland, and it remains a song of impact and a highlight of this first full-length recording (which incidentally took home the Grammy Award for Contemporary Blues Album this year).
The Last Days Of Oakland does not paint a pretty picture of Oakland or of modern America. It is a social statement that can slap you in the face at times. Dphrepaulezz has not had an easy life, especially after experiencing a life altering auto accident that placed him into a coma and then going through agonizing therapy to regain ability to function and survive let alone play his music. And all of this happened just shortly after receiving a major recording contract for his rock music that he was creating at the time, only to see it all disappear following his accident. The music on The Last Days Of Oakland is intense and thought-provoking, and though it may deal with issues of injustice and race, he reminds us in "Lost In A Crowd" that "we're just people, lonely people, you and I."
The musical approach is diverse, but all still remain true to the life issues at hand. In the rocking number "Hump Through The Winter" he asks exactly what happened America? He's working multiple jobs to try to stay ahead but he's still having a hard time just trying to survive. "Working Poor" with its funky gospel attitude is about gentrification, "him clean my city, me sell my soul." Even his cover of the Leadbelly traditional blues "In The Pines" finds him adding his own verse about a single mother whose child is lost to gun violence. And corruption in the world is at hand in "Rant Rushmore" where the beautiful scene has died to a bitter scene. The closing number "Nothing Without You" may seem like a love song, yet even it has its dark side dealing with abusive relationships. There is a lot of overlaying sounds throughout the disc: various statements and comments, numerous instruments, handclaps, even the sound of a chain gang in "Interlude – What Would You Do?"
The Last Days Of Oakland is a tremendous release. A very deep and serious look at today's society and like the way of the world, change is not always pretty but it happens. And so it is with the blues, this is a now take on a musical genre that must change with the times but still hold the impact that it always has. Outstanding!
Total Time: 43:04
Intro – The Last Days Of Oakland / Working Poor / About A Bird / Scary Woman / Interlude – What Would You Do? / The Nigga Song / In The Pines / Hump Through The Winter / Lost In A Crowd / Interlude – El Chileno / The Worst / Rant Rushmore / Nothing Without You