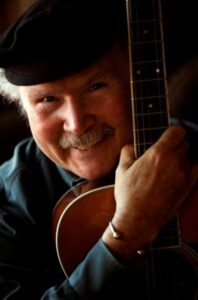 American folk-music icon Tom Paxton graces the Alberta Rose stage with his original and timeless folk-song repertoire, classic voice, and presence. Paxton has become a voice of his generation, addressing issues of injustice and inhumanity, laying bare the absurdities of modern culture and celebrating the tenderest bonds of family, friends, and community. In describing Tom Paxton's influence on his fellow musicians, the late Pete Seeger commented that "Tom's songs have a way of sneaking up on you. You find yourself humming them, whistling them, and singing a verse to a friend. Like the songs of Woody Guthrie, they're becoming part of America." Guy Clark adds: "Thirty years ago Tom Paxton taught a generation of traditional folksingers that it was noble to write your own songs, and, like a good guitar, he just gets better with age." Paxton has been an integral part of the songwriting and folk music community since the early 60's Greenwich Village scene, and continues to be a primary influence on today's "New Folk" performers.
The legendary Tom Paxton will be returning to Portland for one night only as he appears at the Alberta Rose Theatre, 3000 NE Alberta Street, on Tuesday, November 7 at 7:30 pm. Tickets for this all ages event are available at Albertarosetheatre.com for $28.00 advance, $35.00 at the door. Preferred seating in the first five rows of the front and center section can be obtained online in advance only for $45.00.
Grammy Award winners The DonJuans open the show.