Harmonica Ace John Clifton Celebrating New CD at Catfish Lou's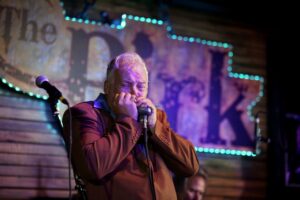 John Clifton may not be a name that instantly leaps to mind when considering many of the West Coast blues scene harmonica players, but maybe it's time it should be, as he is right there with the best.
With style and prowess on the level of Kim Wilson and Rod Piazza, John has always kept it real with his own voice and identity and never set out to be a copy of any of his musical heroes. As a showman he delivers straight from the heart, soul, and gut, staying clear of the typical clichés and novelties. He also keeps things fresh and exciting by effortlessly infusing styles from West Coast to Chicago Blues, classic R&B and Soul, to some hard driving vintage Rock'n'Roll. Currently touring in support of his latest Rip Cat Records recording In The Middle Of Nowhere, Clifton will be heading to Portland in May.
Catfish Lou's, 2460 NW 24th Ave. Saturday, May 11. 8:00 pm. Free.