Horn From The Heart – The Paul Butterfield Story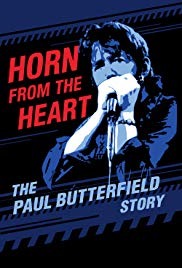 Horn From The Heart – The Paul Butterfield Story is a feature-length documentary about legendary blues musician Paul Butterfield — a white, teen-age harmonica player from Chicago's south side who learned the blues from many of the original black masters. The interracial Paul Butterfield Blues Band, featuring the twin guitars of Michael Bloomfield and Elvin Bishop, drummer Sam Lay, bassist Jerome Arnold and keyboardist Mark Naftalin, added a rock edge to the Chicago blues that struck a chord with the rock fans and rejuvenated interest in the blues. The only artist to perform at The Newport Folk Festival in 1965, The Monterey Pop Festival in 1967 and Woodstock in 1969, Butterfield broke new ground in the blues and stood firm for racial equality until his death in 1987 from a drug overdose. Through his music and words, along with first-hand accounts of family, bandmates, and friends, this film tells the complex story of a man many call the greatest harmonica player of all time.
Hollywood Theater,   4122 NE Sandy Blvd,Sunday, August 4. See theater for showtime and admission.