One of the top musical happenings on the coast every year is the annual Ilwaco Blues & Seafood Festival. The Muddy Award nominated event returns this year on Friday and Saturday, September 23 & 24 at T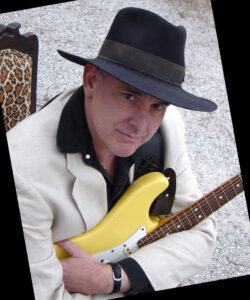 he Port of Ilwaco, Washington, and again it's featuring a spectacular line-up.
Headlining this year's festival will be blues guitar legend Jimmy Thackery. Whether he headlines a festival or jams for hours in one of numerous blues bars that dot the musical landscape, he'll always unleash an intense volley of rockin' blues guitar guaranteed to leave crowds emotionally spent. His double edged guitar dynamics allow him to fire off tracer missiles, bend a note so it will fit under a limbo bar, run off dive bomber riffs, and find space within the trembling of one stinging note. Thackery will close out the festival on Saturday night.
On Friday, audiences will be treated to performances by 2016 Cascade Blues Association Muddy Award winners Bottleneck Blues Band, International Blues Challenge participants The Tracey Fordice Band, the ever-popular North Coast Blues with The Cadillac Horns, and a special performance from the Ilwaco High School Jazz Band's All Star Jam.
Saturday's showcase features alongside Thackery, Portland's own Billy D & The Hoodoos, and Oregon Music Hall of Fame inductee The Norman Sylvester Band.
Blues duo Natty Bone with guitarist Natty O and harmonica player T-Bone Stone will entertain both days during set changes.
An after-party jam is scheduled to take place at The Sea Hag Bar & Grill, 209 1st Avenue S., following the festival.
Tickets for the Ilwaco Blues & Seafood Festival are $15.00 for Friday, $25.00 for Saturday, or $35.00 for a combo ticket for both days. The festival will run from 3:30 pm until 10:00 pm both days. There will be a selection of northwest beers and wines available along with a variety of seafood vendors on-site.
The festival location returns to The Port of Ilwaco Marina, but it's in a slightly different spot this year — still along the waterfront but with more available parking. Check out the festival website at bluesandseafood.com for more information.