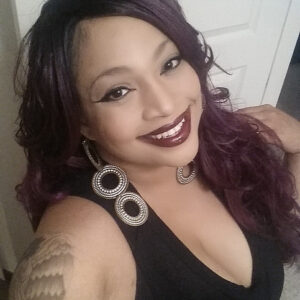 It's clear that soul-blues is her calling. At age 30, JJ Thames stage presence and vocal delivery are more reminiscent of singers from the golden era of the art form than they are of most blues belters on the scene today. Her delivery is never rushed, and her ability to express deep emotion is on par with someone twice her age as she delivers everything from down-home juke joint stylings to full-blown torch songs, all containing messages of positive affirmation. Both classically and jazz trained, JJ began performing at the tender age of 9 years old and became a blues-shouting banshee by the time she was just 18 years old. She cut her teeth after moving down to Jackson, MS, where she performed with the celebrated "Chitlin' Circuit" superstars such as Marvin Sease.
Thames' live shows are the stuff of legend. Part revival meeting and sexual celebration, Thames will deliver a Mississippi juke joint-tongue-in-cheek blues tune or a soul ballad. She honors the bold blues women of the past with both feet firmly planted in the now. With her heart on her sleeve, she belts, growls, shouts, croons, and moans from a place deep within her soul that harkens back to the days of Chess, Bluebird, and Stax Records. She uses music as therapy and often writes from her own life story, and chooses material with positive affirmations that leave the audience feeling healed and exhilarated.
Touring in support of her latest release, Raw Sugar, JJ Thames returns to Oregon following her strong performance at the Waterfront Blues Festival for one show only at The Birk, 11139 Hwy 202, BIrkenfeld. Happening on Tuesday, August 29, this show is open to all ages and starts at 7:30 pm. Advance tickets can be purchased through TicketTomato.com for $10.00, $13.00 at the door.