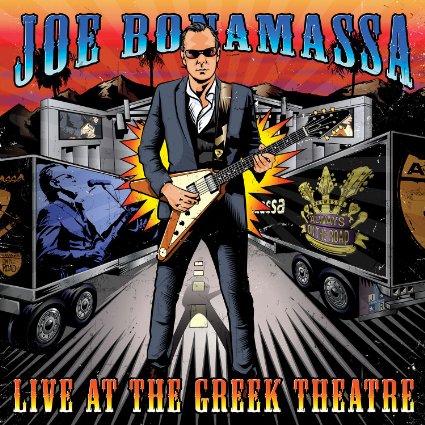 Live at the Greek Theater
J&R Adventures
Reviewed by Jeff Levine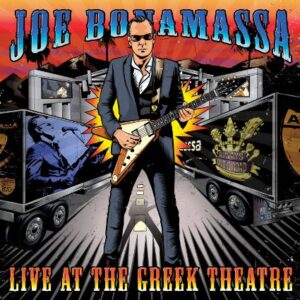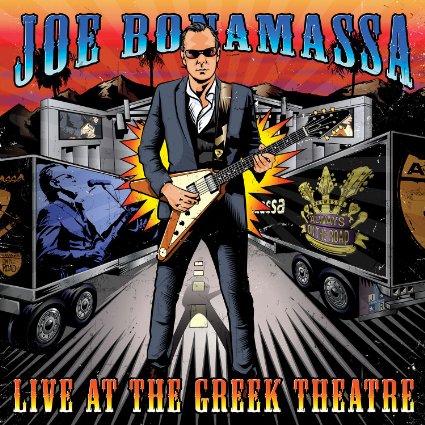 This CD/ DVD is Joe Bonamassa's tribute to the Three Kings of the Blues: BB, Albert, and Freddie. Recorded in the historic Los Angeles Greek Theater at the end of  2015, it features a full band with horns and singers. Anton Fig (drums), Michael Rhodes (bass), Reese Wynans (piano, Hammond organ), Lee Thornburg (trumpet, horn arrangements), Paulie Cerra (saxophone),  Ron Dziublia (Tenor Saxophone) Kirk Fletcher (Rhythm Guitar), with Mahalia MacRae and Juanita Tippins (vocals).
Joe Bonamassa's started his career as a child and played with B.B. King on stage at 12. He has released 16 solo albums in the last 14 years on his own label, J&R Adventures. His 2014 release, Different Shades of Blue, was nominated for a Grammy award. Joe is also an avid vintage guitar collector and regularly writes about collecting.
The video was on TV a few months ago. Once I saw it, I was hooked! It was a departure from Joe's contemporary rock based interpretation of the blues. These "Kings" classics retain their original structure and feel, but with a twist.  Joe adds his amazing, blazing guitar solos, while the horns and background vocals keep the original song character. The song list features "Kings" classics that all blues lovers should recognize.
Here are a few of my favorites: "Going Down" has just enough guitar grit. "I'll Play the Blues for You" has a wonderful sultry vibe especially with the horns and singers. "Cadillac Assembly Line" re-tells electric blues story, when the players made their way up north to find high paying factory work. Joe nails the vocals in "Hummingbird." You can hear BB's influence. The encore features top "Kings" blues hits: "Hideaway," "Born Under a Bad Sign" and probably the #1 blues hit of all time, "The Thrill is Gone." I've listened to the originals a lot, and even tried to play them. In Joe's interpretation you hear how he has studied the Kings, staying true to the originals and adding a his own interpretation.  Joe closes it out with "Riding With the Kings", a very fitting ending.
If you have not listened to Joe before, this is a great starter. And if you are familiar with his work, I think you'll appreciate this take on the classics.
Total time: 2:05:18
See See Baby/Some Other Day, Some Other Time/Lonesome Whistle Blues/
Sittin' on the Boat Dock/You've Got to Love Her With a Feeling/Going Down/I'll Play the Blues for You/ I Get Evil/ Breaking Up Somebody's Home/ Angel of Mercy/ Cadillac Assembly Line / Oh, Pretty Woman/Let the Good Times Roll/ Never Make Your Move Too Soon/ Ole Time Religion/ Nobody Loves Me But My Mother/Boogie Woogie Woman/ Hummingbird/ Hide Away/Born Under a Bad Sign/The Thrill Is Gone/Riding With the Kings
https://cascadebluesassociation.org/wp-content/uploads/2017/02/Joe-Bonamassa-CD-cover.jpg
425
425
Wendy Schumer
https://cascadebluesassociation.org/wp-content/uploads/2020/10/CBA_Logo_top_main.png
Wendy Schumer
2017-02-01 12:35:33
2018-10-30 08:21:04
Joe Bonamassa