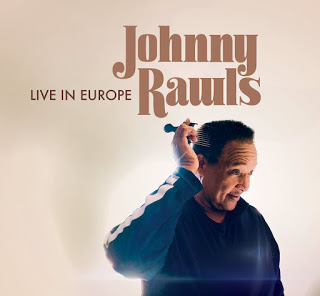 Johnny Rawls
Live In Europe
Continental Records Services
Review by Greg Johnson 
If you're new to the field of soul blues, then it's time for you to sit up and take notice. Going directly to Johnny Rawls may be one of the best options to introduce yourself. The multi-Blues Music Award winning vocalist is like something sweet that is going to make you crave hearing him more and more. Like maybe your favorite ice cream or dessert, once you hear his voice you immediately turn up the volume and listen even closer. 
It's always a treat to see a master musician perform live, especially when they possess the capacity to draw a crowd into their hands. Makes you want to dance; makes you want to smile. On this new disc, Live in Europe, (released on the Dutch label Continental Records Services) Rawls only needs to take nine songs to bring your senses to attention. He is backed by a German trio known as The Özdemirs, and Italian Hammond player Alberto Marsico. The group toured throughout Europe in 2019, including this performance recorded in Hildeshiem, Germany, and in Vejle, Denmark, where they captured a take on T-Bone Walker's "Stormy Monday."  
Most of the selections, like "Stormy Monday" are covers, but all done in his own sensual and smooth rendition. Songs like The Rolling Stones' "Beast of Burden," OV Wright's "Into Something (I Can't Shake Loose)," Tyrone Davis' "Turning Point" and James Carr's "Pouring Water on a Drowning Man," are all done with just the right Rawls' touch that is heartfelt and spot-on soulful. "Lucy," one of his own signature tunes, closes the performance and also hits home. You know as he calls the ladies down front that this is a party by all means; and if you've ever caught Johnny Rawls in a juke joint or small stage, he is going to get a little raunchy and suggestive, too. Inciting the audience to get your hands in the air and swing that thing! "Come on, Lucy, get juicy, honey, get on down and down and work that coochie." 
The album closes with a very nice take on Rawls' tribute to his friend, Otis Clay, the title track to his previous American release "I Miss Otis Clay." He brought this touring band into the studio in Copenhagen to lay this take down. Get your hands on this incredible album, because Johnny Rawls is arguably the finest soul bluesman in the world today. He's going to lead you into a sure-fire love affair with soul blues without doubt. 
Total Time: 41:14 
Beast of Burden / Country Boy / Too Weak To Fight / Can I Get It / Turning Point / Stormy Monday / Into Something (I Can't Shake Loose) / Pouring Water on a Drowning Man / Lucy / I Miss Otis Clay[Text Wrapping Break][Text Wrapping Break] 
https://cascadebluesassociation.org/wp-content/uploads/2020/06/Johnny-Rawls-CD-cover-copy.jpg
296
320
Greg Johnson
https://cascadebluesassociation.org/wp-content/uploads/2020/10/CBA_Logo_top_main.png
Greg Johnson
2020-06-28 12:35:43
2020-06-28 12:46:55
Johnny Rawls – Live In Europe