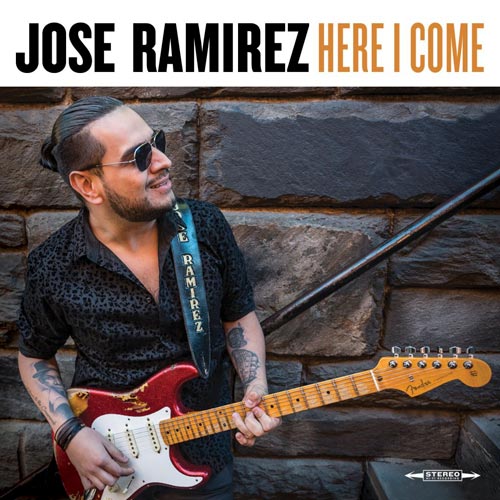 Jose Ramirez
Here I Come
Blind Racoon  
Reviewed by John Taylor 
Costa Rican native Jose Ramirez, the second-place finisher at the 2020  International Blues Challenge in Memphis, has brewed a wicked concoction of straight-ahead blues, passionate soul, and tasty R&B with his debut release "Here I Come."  
Ramirez is joined here by famed producer and bandleader Anson Funderburk, who adds some fiery licks (check out his rapier-like lead guitar attacks on "Gasoline and Matches") while drummer Wes Starr and bassist Nate Rowe supply a stone-solid rhythm section. Organ and piano marvel, and Robert Cray alumnus, Jim Pugh offers some sinuous keyboard playing, particularly on "Goodbye Letter," "One Woman Man," and "Waiting for Your Call." All this is then topped off with The Texas Horns — saxophonists  Kaz Kazanoff and John Mills and trumpet player Al Gomez — and their tough, razor-edged horn riffs.  
Ramirez is as fine a songwriter as he is guitarist and singer, and while several of his original songs stand out on this album, "Three Years," a blues and soul-infused shuffle that echos Stevie Ray Vaughan's "Cold Shot" and features fine guitar work from both Ramirez and Funderburk along with some luscious organ lines from Pugh, is the finest track on the album and alone testifies to the promise of Ramirez's talent.   
Included on "Here I Come" are remakes of two definitive blues numbers: T-Bone Walker's "I Miss You Baby" and Robert Johnson's "Traveling Riverside Blues."  Ramirez's version of Walker's classic song manages to capture the spirit of the original yet sound fresh and dynamic, but his version of Johnson's "Traveling Riverside Blues" is too languid. I appreciate the attempt to give that famous tune a new, slightly soulful spin, but it's been covered so often, (I imagine at some point The Archies recorded "Traveling Riverside Blues") and by such heavy hitters as Clapton and Zeppelin that nearly any other recording is fated to fall short. Degree-of-difficulty points awarded for giving it a shot though. 
Ramirez's "Here I Come" is a mature, rock-solid blues album steeped in soulful musicianship and superb songwriting. The fact that it's a debut album makes it all the more impressive. Jose Ramirez is clearly an up-and-coming contender for the first rank of blues songwriters and performers working today and is a major talent to watch. One hopes, after all this virus craziness passes, to catch him on tour.
Total Time: 54:42 
Here I Come / I Miss You Baby / Gasoline & Matches / One Woman Man / Goodbye Letter / The Way You Make Me Feel / Three Years / As You Can See / Waiting For Your Call / Traveling Riverside Blues / Stop Teasing Me 
https://cascadebluesassociation.org/wp-content/uploads/2020/07/Jose-Ramirez-CD-cover.jpg
500
500
Shelley Garrett
https://cascadebluesassociation.org/wp-content/uploads/2020/10/CBA_Logo_top_main.png
Shelley Garrett
2020-07-31 16:52:08
2020-07-31 16:55:26
Jose Ramirez – Here I Come