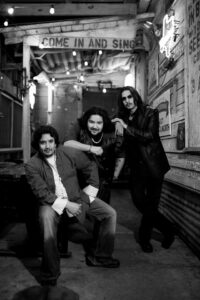 Los Lonely Boys are an American Chicano rock power trio from San Angelo, Texas. They play a style of music they call "Texican Rock n' Roll," combining elements of rock and roll, Texas blues, brown-eyed soul, country, and Tejano. Lots of musicians compare their careers to roller-coaster rides, but Los Lonely Boys have had so many close-your-eyes-and-hang-on moments in the 14 years since they recorded their self-titled debut, they should buy an amusement park. A live performance that you're likely not going to forget.
Los Lonely Boys return to Oregon for a pair of shows, starting off on Saturday, July 21 at The Tower Theatre Pub in Bend at 8:00 pm. Located at 835 Wall Street. Reserved tickets range from $45.00 to $65.00 and can be purchased at Towertheatre.org.
On Tuesday, July 24, Los Lonely Boys will appear at The Elsinore Theater, 170 High Street SE, in Salem. Show time is 7:30 pm for this all ages event. Tickets are $30.00 to $45.00 at Ticketswest.com.