Mavis Staples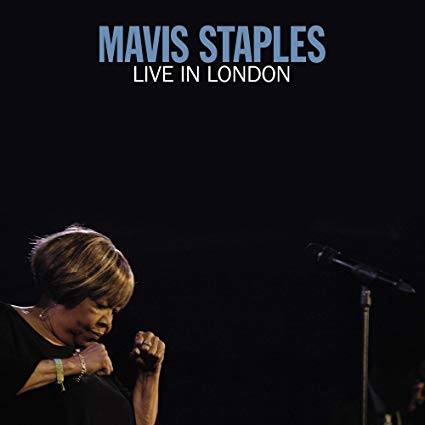 Live In London
Anti-Records
By Greg Johnson
When it comes to soul and gospel vocalists, does it get any better than Mavis Staples? It would be pretty tough to come up with anybody with as fine a resume. Mavis has worked professionally for seventy years, since before she was ten years old, and alongside her family in the Staple Singers, she was the voice of civil rights and social injustices, delivering a peaceful, non-threatening message of hope and redemption.
Mavis has released four albums over the past decade, working with a plethora of talented songwriters. Focusing on those numbers for the most part on her first live recording in ten years, she still shows that she has a lot to say politically and spreading the voice of love.
Backed by an all-star outfit that is led by guitarist Rick Holmstrom and includes drummer Stephen Hodges and bass player Jeff Turmes, with vocalists Donny Gerard and vicki Randle, Mavis and the group present songs written by the likes of Ben Harper, Benjamin Booker, Jeff Tweedy, M. Ward, George Clinton, Curtis Mayfield, and The Talking Heads. And not to leave her early days out of the mix, there is a Pops Staples number, too ("What You Gonna Do").
Many of these songs fit directly into the current atmosphere of our times. "Slippery People" had been previously covered by The Staple Singers back in 1984, but it can easily depict the type of politics running our country now. There is no mistaking the theme she visualizes in "No Time For Cryin'" that she co-wrote with Tweedy, speaking about motherless children who have been removed from their families as refugees. The selections clearly define her social stances, but through it all she brings the end of the show with a light of hope with Little Milton's "We're Gonna Make It" and another Staple Singers piece "Touch A Hand (Make A Friend)."
Recorded over two nights in London at Union Chapel, this is a firm notice that Mavis Staples still can command a performance and she is not shying away from her social stances as she has done for seven decades. At 79 years, she is still the leader of that human march because she wants every one to know that "You Are Not Alone." Excellent show by a legendary singer.
Total Time: 56:30
Love And Trust / Who Told You That / Slippery People / What You Gonna Do Intro / What You Gonna Do / Take Us Back / You Are Not Alone / No Time For Cryin' / Can You Get To That / Let's Do It Again / Dedicated / We're Gonna Make It / Encore: Happy Birthday / Touch A Hand